What services would you be willing to pay on Twitter? This is the question that some members of the Twitter community have been asked recently. Such a question is the first step made by the platform to create a Super Follow option. These are paid subscriptions that a Twitter Professional profile can initiate. Now, with the tip jar as a tipping button, Twitter is testing "Twitter Blue."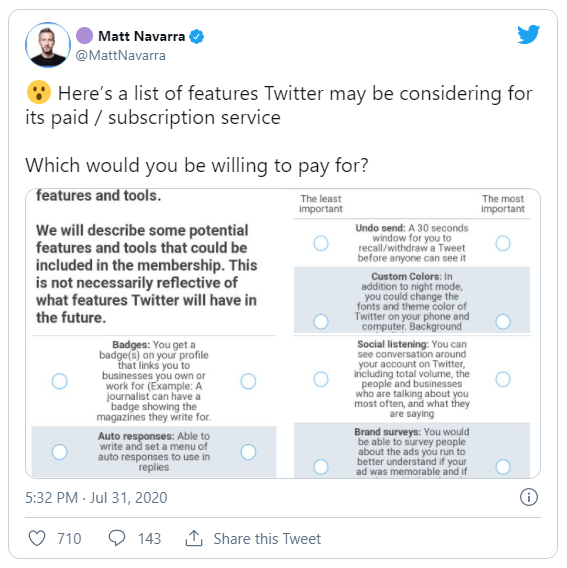 According to reverse engineering expert, Jane Manchun Wong, Twitter Blue will take user experience to the next level. It will allow Twitter users to pay $2.99 per month to access exclusive content and functions. One of these is a "Collections for Bookmarks." This feature allows a user to save tweets in topic folders. Another feature is the "undo tweet" which lets users remove a tweet within a certain time frame. Twitter Blue isn't only $2.99. The platform is also planning to tier the pricing based on the number of paid content and features. Other possible premium services that may be added are access to Breaker, Revue, and Scroll.
Twitter tests "Twitter Blue" paid subscriptions as of 15 May 2021.
Implications for Marketers: 
As Twitter tests paid subscriptions like Twitter Blue, many users may resist the idea. This is predicted to happen among individual profiles. Sooner, as the platform creates business profiles and adds paid subscriptions among businesses, it could end up being a winner. With Twitter's new eCommerce tools, marketers will most likely be willing to pay to reach 199 million DAU.
Reference: https://www.socialmediatoday.com/news/twitter-is-reportedly-working-on-a-new-set-of-paid-tweet-options-under-a-mo/600241/