Nowadays, tipping is becoming popular among social media platforms. It became a means for followers to show support. Such a behavior started when Facebook rolled out fundraiser tools in 2018. This was followed by donation stickers in 2020. The Clubhouse app has also launched a direct payment option to help creators earn money. Twitter has been working on the Super Follow option and tipping button since early this year. Today, the platform rolls out a tip jar.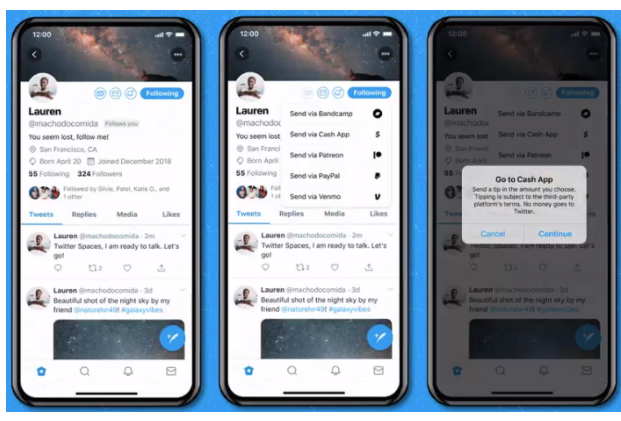 Tip Jar is a new way for Twitter users to receive tips or send one. Instead of a click on the follow, like, and retweet button, users can now collect payments from their audience. This is as a means of support to their efforts. For now, the tip jar is in beta testing to a selected group of creators, experts, journalists, and nonprofits. It will also be initially available to Twitter users in English both for Android and iOS.
A Twitter profile showing a tip jar icon next to the follow button is part of the testing group. To set up the tip jar, simply go to the edit profile and turn on the tip jar to allow tipping. You can choose a preferred payment service between:
Bandcamp

Cash App

Patreon

PayPal

Venmo
To send a tip, a user needs to click the tap jar icon showing beside the follow button of a Twitter profile. Choose the payment service and proceed to make the payment. Twitter takes no cut on the payment. Twitter Android users can also send tips via Spaces.
Twitter rolls out a tip jar as of 06 May 2021.
Implications for Marketers:
Twitter's tip jar is an easy way to support incredible people that liven up the conversations within the community. For marketers, this can be a new way for brands to earn extra revenue. Twitter's tip jar is an eCommerce function. Sooner, it may be used for direct payments on Twitter to make the buying experience easier.
Reference: https://www.socialmediatoday.com/news/twitter-launches-live-test-of-tip-jar-to-enable-on-profile-donations/599745/