Tap it on! Twitter globally launches Spaces for both Android and iOS devices. Spaces are Twitter's Clubhouse clone. It's an audio-only room allowing a Twitter user to discuss a voice-only chat. The ongoing conversation will be visible as a bubble under Twitter Fleets. Other members of the Twitter nation can join by tapping the "Request" microphone icon at the bottom of the screen.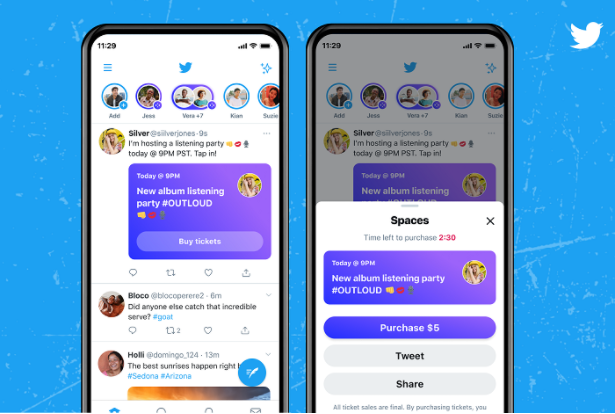 Twitter started testing Spaces on 17 November 2020 after rolling out audio tweets and quote tweets. After a month, the platform tested Spaces on virtual rooms. It was then launched for Android devices on 02 March 2021. Today, Twitter is bringing Spaces to all accounts with 600 and more followers. Such a move aims at promoting exclusivity which mimics the Clubhouse app's invite-only option. 
Together with the global launch of Spaces, Twitter is now testing "ticketed Spaces." This feature aims to help the host monetize such conversations. It is currently being tested on selected users. The host can set the ticket price and the number of participants who can join the conversation.
Twitter globally launches Spaces on 03 May 2021.
Implications for Marketers:
The global launch of Twitter Spaces signals the platform's big investment in a social audio app. It seems that audio rooms are becoming the most important tool for real-time discussion nowadays. For marketers, Spaces open up new opportunities for audio-based marketing. With a dedicated Space tab to boost discovery, it may be worth tapping into 199 million daily active users.
Reference: https://www.socialmediatoday.com/news/twitter-opens-audio-spaces-to-all-users-with-over-600-followers-announces/599466/