Twitter releases its marketing calendar for November 2020. This is to help brands gain ideas of potential promotion tie-ins. The platform has been updating its marketing calendar after the lockdowns and quarantines. They started publishing the modified ones in June 2020 and released a Twitter full marketing calendar in July 2020. This is together with rolling out new tools to help brands better connect to their audiences. These include audio tweets, DM overlay on tweets, quote tweets, and Twitter list options.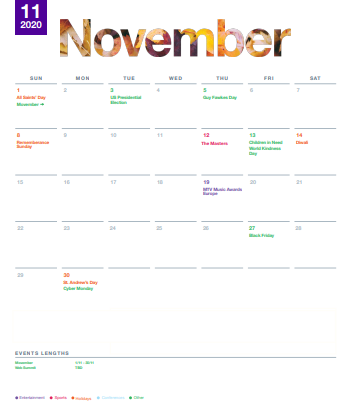 The updated Q4 of 2020 Marketing Calendar of Twitter shows the following November 2020 events and holidays:
November 1 – All Saint's Day

November 3 – U.S. Presidential Election

November 5 – Guy Fawkes Day

November 8 – Remembrance Day

November 12 – The Masters

November 13 – Children in Need World Kindness Day

November 14 – Diwali

November 19 – MTV Music Awards Europe

November 27 – Black Friday

November 30 – St. Andrew's Day and Cyber Monday
The list can help American and British brands to plan their campaigns for this month.
Implications for Marketers:
Twitter's marketing calendar helps brands what and when can they launch an ad or campaign. It gives them the time to plan relevant content on upcoming events and holidays. By having a firm plan for every season, brands can reduce marketing costs and increase ad efficiency.
Reference: https://business.twitter.com/content/dam/business-twitter/resources/marketing-calendar-2020/q4-calendar/Q4-Calendar-UKI.pdf