Around 500 million Instagrammers tap into Stories every day. This makes them an important feature of the platform. And so are stickers. They have been very helpful to boost engagement on Instagram Stories. Business stickers like food orders and gift cards lifted brand revenue especially during its 1st month of launch. Around 61% of IG users tapped in them to support small businesses. Custom stickers can be used to celebrate occasions. Donation stickers encourage the audience to support a cause. Emoji sliders make ratings or surveys fun. While quick reply stickers make it easier to react to posts and other Stories. Today, Instagram tests new stories stickers and Star Wars chat theme.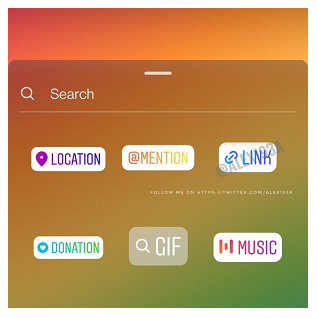 New Stories Stickers
Instagram is currently testing 2 new types of stickers for Stories. 
Link stickers

allow Instagrammers to add locations to their Stories. This is like the "Swipe-Up Link" feature for IG accounts with more than 10,000 followers. What makes them better is that they can be positioned in any part of the Story frame. So, users can choose a place where they can draw attention.

Super Mention stickers

look like a shopping bag and are somewhat linked to donation tools for creators. Like badges, a Super Mention sticker is a way to get noticed by influencers. When a fan buys such a sticker for Stories, the mentioned user will be notified, increasing the chance for them to reply. 
Star Wars Chat Theme
Instagram offers different chat backgrounds and themes. Today, they are adding a Star Wars chat theme. This is to pay homage to the upcoming Star Wars day on the 4th of May. The new Star Wars chat theme may also be a precursor of sponsored content.
Instagram tests new stories stickers and Star Wars chat theme on 20 April 2021.
Implications for Marketers:
Instagram's new stories stickers and Star Wars chat theme are new ways to add engagement and fun. For marketers, these features can help boost awareness and engagement among the Instagram community. Stickers have help brands and businesses level up their marketing strategies. Any addition to such features can help them enhance relevant content.
Reference: https://www.socialmediatoday.com/news/instagrams-working-on-new-sticker-types-new-background-visuals-for-direct/598754/