Social media networks have reacted when Apple announced its iOS update last year. On 28 April 2021, Apple officially launched iOS 14.5. What's controversial about this operating system is the identifier for advertisers (IDFA). Such a code requires iOS apps to request the user's permission for data tracking. This code, as Facebook and other platforms noted, will affect ad targeting. That is why Facebook has released data prompts to convince users, not to opt out of data tracking. Today, Twitter follows Facebook's lead by showing new explainer prompts for data tracking.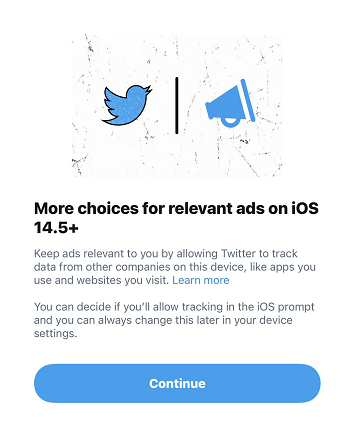 Twitter's new explainer prompt is quoted as:
"More choices for relevant ads on iOS 14.5+

Keep ads relevant to you by allowing Twitter to track data from other companies on this device, like apps you use and websites you visit. Learn more

You can decide if you'll allow tracking in the iOS prompt and you can always change this later in your device settings."
The "Learn more" button leads users to Twitter's Help Platform page that provides an overview of the general process.
Twitter shows new explainer prompts for data tracking on 17 May 2021.
Implications for Marketers: 
Twitter's new explainer prompts are a move to influence iOS users to allow data tracking. Like Facebook, the platform is hopeful that Apple's privacy update will not affect its ads. Especially now when Twitter is considering paid subscriptions. For marketers, this is a wait-and-see process on how IDFA will impact social media marketing. The key is to prepare and focus more on boosting organic reach at the moment.
Reference: https://www.socialmediatoday.com/news/twitters-now-showing-users-new-prompts-asking-them-not-to-switch-off-data/600304/