Facebook has added several updates to its Fundraiser feature. Through this feature, people can now match donations to their nonprofit fundraisers.
Firstly, Facebook added four new categories to the area of personal cause fundraisers. Facebook announced that it will completely waiver off all platform fee on all fundraisers for personal causes in the weeks to come.
According to Facebook, more than 1.5 million nonprofits use pages to create communities and connect with their supporters, donors, and volunteers. Around 750,000 nonprofits have used the fundraising products and tools offered by Facebook.
The creators of fundraisers can pledge to match donations from any amount starting from $5 and going up to $2,500. This enables them to build momentum to the cause that they support.
Currently, this tool is only available in US, with plans to introduce it to a global audience in the future. With the huge number of nonprofits already using this feature in the US, globally this feature can find a large usability.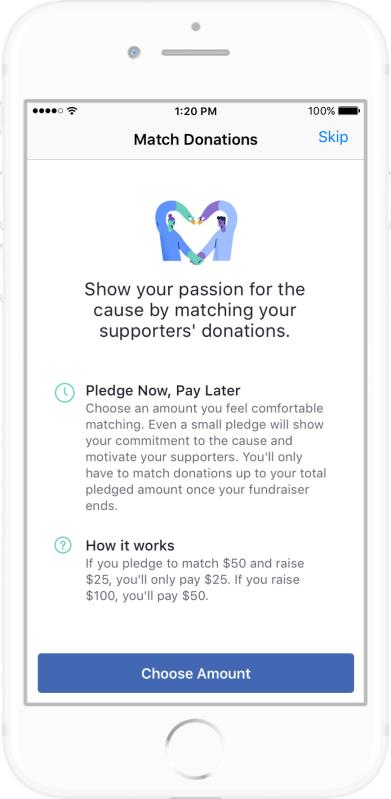 For personal causes, the four added categories are:
Family (like new baby supplies or adoption)
Faith (like missions or religious community events)
Travel (like educational trips or travel for medical needs)
Volunteering (like volunteer programs or supplies for volunteer programs)
Facebook's Head of Product, Social Good, Asha Sharma said, "We're inspired by the many ways people have come together to support one another for these social good causes. In the coming weeks, we're eliminating the platform fee on all fundraisers for personal causes, so that people can maximize their fundraising support. There will still be a small fee charged for payment processing and applicable taxes."
To create fundraisers for personal causes or nonprofits, users can follow this link: www.facebook.com/fundraisers
Facebook's mobile application also contains the fundraisers bookmark. Therefore, the fundraisers can be easily created via the mobile app as well.
Original Source: Facebook
Image credit: Facebook
Social stand provides social media marketing in HK.