Instagram is set to scale up Reels and outrun TikTok in the competition. After testing Reels in Brazil, Instagram launched the feature in India. This is right in time after the TikTok ban in the said country. Then came the threat to stop TikTok operations in the United States. Reels was launched in the U.S. during the same period. By August 2020, Reels was made available globally. The following month, Instagram boosted Reel's exposure on the platform. They've set up a dedicated Reels tab and the Monthly Reels Trend Report. To continue boosting the exposure of Reels on other platforms, Instagram now tests sharing Reels on Facebook.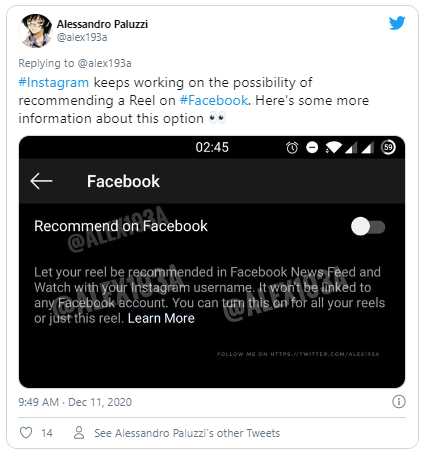 Reels are short multi-clip videos on Instagram that last for 15 to 30 seconds. Instagrammers can also add audio, AR, and video effects to make it more entertaining. If your IG account is set to public, you can share Reels on a dedicated section in the Explore page of Instagram. But if your IG account is set as private, you can share Reels on your Instagram posts and Stories. Currently, Instagram is testing to share Reels on Facebook Watch and News Feed. The said update will allow Reels to be recommended on Facebook using your Instagram's user name. Such recommended Reels will appear on Facebook Watch and News Feed and won't be associated with a Facebook profile. 
Instagram tests sharing Reels on Facebook as of 11 December 2020.
Implications for Marketers:
Instagram Reels have come a long way and is now gaining interest from Instagrammers. If its plan to show up in Facebook officially rolled out, there's a great possibility that it may outrun TikTok. Boosting the exposure of Reels on Facebook can be a promotion opportunity for brands. As such, marketers should start preparing a Reels-oriented marketing strategy. They can start a competition for their followers to create UGC Reels. Or they can create their own by sharing teasers of upcoming launches. Any which way, Reels can help increase brand discovery and engagement.
Reference: https://www.socialmediatoday.com/news/instagram-tests-sharing-reels-to-facebooks-news-feed-and-watch-listings/592082/