Around 500 million people use Instagram Stories daily. Such momentary posts that disappear after 24 hours have received a lot of engagements. Right now, Instagrammers can respond to a story using quick emojis. Similar to comments, the creator will receive them via a direct message. Instagram Stories can also be forwarded and shared. Today, Instagram tests "Likes" on Stories.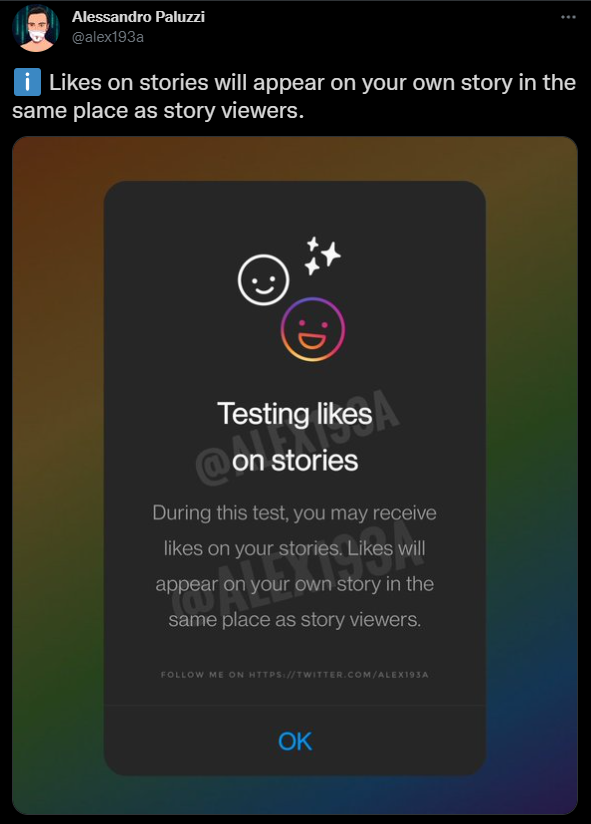 App researcher Alessandro Paluzzi shares the update via a tweet. A "Like" button appears at the bottom part of Instagram Stories, besides the message field. It is just under the experiment stage. So, there is a possibility that the "Like" button will become a function menu. Users can also put a "Like" multiple times without flooding an Instagram profile's inbox. The "likes" are not public and can only be seen by the creator and liker of the post.
Instagram tests "Likes" on Stories as of 05 October 2021.
Implications for Marketers:
As Instagram tests "Likes" on Stories, it allows quicker engagement within the platform. For marketers, they can be a great way to boost engagement.
Reference: https://twitter.com/alex193a/status/1445386902778126340?ref_src=twsrc%5Etfw%7Ctwcamp%5Etweetembed%7Ctwterm%5E1445386902778126340%7Ctwgr%5E%7Ctwcon%5Es1_&ref_url=https%3A%2F%2Fwww.socialmediatoday.com%2Fnews%2Finstagrams-testing-likes-on-stories-providing-another-engagement-option%2F607729%2F