Instagram launched its Tiktok clone in Brazil on 12 November 2019. It was called Reels. The feature was rolled out in France and Germany on 24 June 2020. By 05 August 2020, Reels was made available to 50 new regions. With this short-form video feature globally launched, the platform wishes to maximize its usage. As such, Instagram boosts the exposure of Reels on its main feed.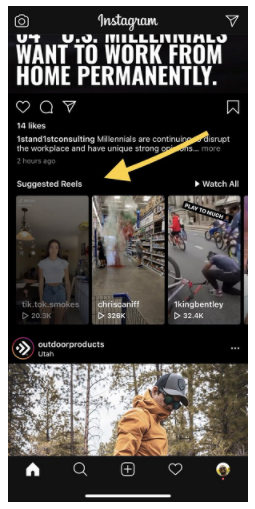 First, Instagram added a dedicated Reels tab on its main feed. In a tweet by Lindsey Gamble, an influencer and marketing strategist, "Suggested Reels" appears between feeds. It shows the most relevant clips for Instagrammers. 
Second, Instagram introduces the Reels Trend Report monthly. Here, Instagram aims to show the best exclusive Reels content. The first trend report includes popular creator Reels with the hashtag #Infotainment. 
Instagram is also testing the option "Recommend as Feature" for Reels. It's like the #ForYou TikTok feature highlighting a user's best content. Also, the platform is testing different placements of the Reels tab within the lower navigation bar.
Instagram boosts the exposure of Reels on its main feed as of 08 September 2020.
Implications for Marketers

:
We can see Instagram's dedication to boosting the usage of Reels. This is the same effort it exerted on Stories. It started with 150 million users in 2016. After 4 years, around 500 million Instagrammers use it every day. For marketers, it's a good idea to jump on a Reels marketing strategy today. While the competition is low and young, a brand can gain extra exposure off the ground. A good start is to partner with influencers to showcase your products. In the long run, Reels can be an effective marketing tactic.
Reference: https://www.socialmediatoday.com/news/instagram-adds-suggested-reels-display-in-main-feed-launches-monthly-ree/584879/