Today, Facebook tests an Instagram content calendar on Creator Studio. This is to help brands better plan their marketing strategy on the platform. Before, Instagram rolled out chat stickers and QR codes on Live shopping. They also added the Guides tab and Suggested Posts as new places to show ads. Hopefully, an Instagram content calendar can collate these contents into one.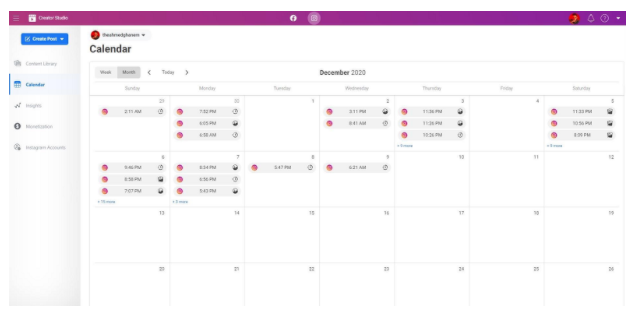 In one of Ahmed Ghanem's tweets, shared by Matt Navarra, a content calendar option appears on the left-hand bar of your Instagram tab on the Creator Studio Dashboard. It displays a list of your past and scheduled posts on Instagram.  Each post is represented by icons for images, carousels, and more. Brands can also schedule content in advance for up to six months. This advance posting is not limited to feeds and IGTV only, which users can do on the Instagram app itself. It's not yet sure if Stories posts are included. 
Facebook tests Instagram content calendar on Creator Studio as of 09 December 2020.
Implications for Marketers:
An Instagram content calendar can make it easier for marketers to map out their marketing plans on the platform. As such, optimal coverage of ads and campaigns can be ensured. Marketers can now plan ahead and get better content for their promotions on Instagram.
Reference: https://www.socialmediatoday.com/news/facebooks-testing-an-instagram-content-calendar-in-its-creator-studio-tool/591936/