Buckle up movie fans! Facebook launches "Movie Mate", a new digital experience. It's a first-of-a-kind second-screen chat experience on Messenger. With chat themes and a 360-degree background, it will also be available on Instagram. This is a similar element to Watch Together which Facebook integrated with Messenger last July 2020.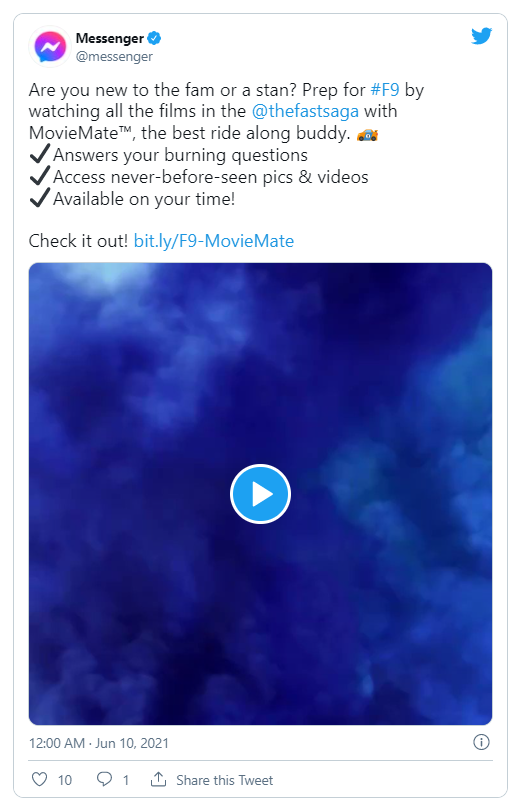 Movie Mate is a third-party offering in Messenger in partnership with Universal Pictures. The team-up is in line with the 20th anniversary of "The Fast and Furious" and the theatrical release of F9 on 25 June 2021. To access Movie Mate, go to the Fast & Furious Facebook page and click the start a video call or create a Messenger Room. When a user starts a chat, he or she will be prompted about his or her fandom level. This is to customize the experience based on the user's knowledge level. Movie Mate will be available for each Fast Saga film anytime a user wants to view it. It also offers footage in real-time and photos that have never been seen. What's best is that it answers burning questions from movie watchers. 
Facebook launches "Movie Mate", a new digital experience on 09 June 2021.
Implications for Marketers: 
Can Movie Mate become a new sponsorship option for Facebook? Let's wait and see. For marketers, this is a great way for new promotions. Partnering with big films facilitated by interactive features on Messenger can boost awareness and connections. 
Reference: https://www.socialmediatoday.com/news/messenger-adds-new-integration-to-promote-the-latest-fast-and-the-furious/601574/