The Twitter nation is witnessing big changes in the platform nowadays. Recently, it globally launched professional profiles for brands and businesses. It also rolled out audio rooms called Spaces. Yet with 199 million daily active users, Twitter's challenge is to battle offensive comments. Last August 2020, the platform enabled offensive comment warnings. Today, Twitter updates such warning prompts.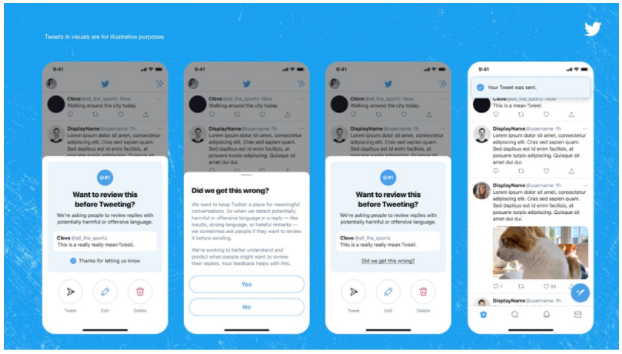 Twitter's updated warning prompts aim to be more helpful and respectful. The warning prompt is quoted like this:
"Want to review this before Tweeting?
We are asking people to review replies with potentially harmful or offensive language.
This is a mean tweet that features the word (possible offensive word) that might need to be reviewed.
Did we get this wrong?"
The last question is a clickable link if a user wants to explain the reason behind a tweet. The updated version also has an improved detection algorithm to avoid any misidentification. It now factors:
better detection of profane languages

how often the author and the replier interact

the relationship between the author of the tweet and the one who reply via comment
The initial test of the updated warning prompts recorded that 34% of users change the reply or decide not to send them.
Twitter updates its warning prompts for offensive comments on 05 May 2021.
Implications for Marketers:
Twitter's updated warning prompts for offensive comments have a gentler touch and are more user-friendly. For marketers, this is a way to improve the Twitter experience by encouraging more positive comments. As such, it can help build a better community of followers among brands.
Reference: https://www.socialmediatoday.com/news/twitter-launches-updated-offensive-comment-alerts-on-both-ios-and-android/599657/