Remember Twitter's professional profiles? These are business profiles on the platform with enabled "About" tabs showing a range of account information. Last 20 May 2021, the platform relaunched its profile verification to highlight the blue tick mark for such accounts. Unfortunately, Twitter temporarily halts profile verification.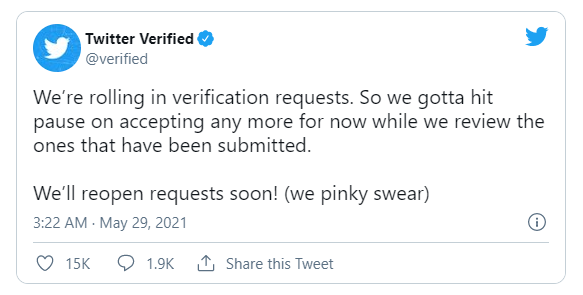 Twitter puts a hold on the relaunched public verification process because of the influx of requests which their current manpower cannot handle all at once. So, to clear the backlog, the platform decided to temporarily halt profile verification. It will then resume as soon as the platform has completely processed all the pending requests. Currently, out of 199 million users on Twitter, only 360,000 are verified accounts or have a blue tick. 
Twitter temporarily halts profile verification as of 28 May 2021.
Implications for Marketers: 
Twitter temporarily halts profile verification to find time to review pending requests. For marketers getting a blue tick or having a verified account promotes transparency and trust. In the long run, such a blue tick can signal the legitimacy of an account on the Twitter platform.
Reference: https://www.socialmediatoday.com/news/twitter-pauses-public-requests-for-profile-verification-just-a-week-after/601017/