Calling out the Twitter nation! Expect a totally new Twitter experience within the coming days. Twitter has been rolling out new features and tools. These include collections to save tweets, a tip jar to monetize content, and Twitter Blue for paid subscriptions. Last April, Twitter launched Professional profiles for businesses. Today, Twitter is testing an "About Tab" among user profiles.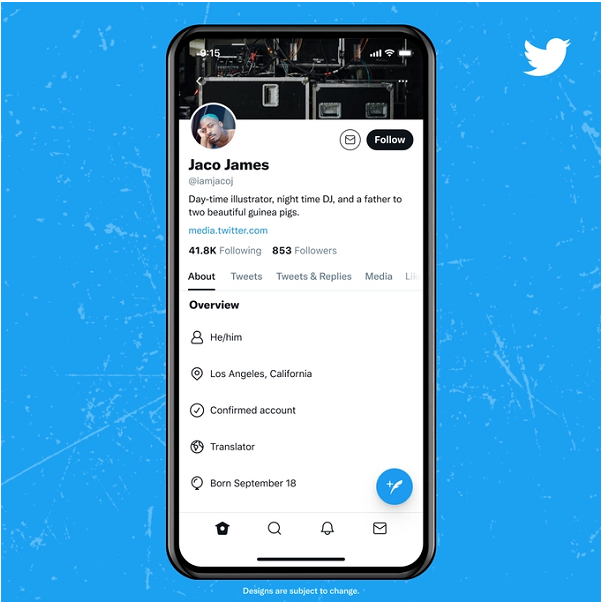 Twitter's "About Tab" provides a range of profile information among accounts on Twitter. These include:
interests

location

personal information

preferred pronouns

translator badge

, a volunteer badge from Twitter Translation Center (

TTC

)

verification badge, a blue tick indicating a verified Twitter account
Such pieces of information give more context about a Twitter profile. These can help other users better connect to accounts with similar experiences and interests. They can also increase transparency among businesses on Twitter.
Twitter is testing an "About Tab" among user profiles as of 20 May 2021.
Implications for Marketers: 
Having an "About Tab" on a Twitter profile boosts transparency within the Twitter nation. For marketers, this can be a great way to highlight a brand's niche. By clearly indicating the business category in a Twitter profile, they can boost connections with users interested in their niche. 
Reference: https://www.socialmediatoday.com/news/twitter-is-testing-a-new-about-tab-on-user-profiles-to-provide-more-conte/600572/