Here's the newest member of Twitter Shops! Twitter introduces product drops. With live shopping, product displays, and shop modules, it has always been so exciting to shop on the microblogging platform.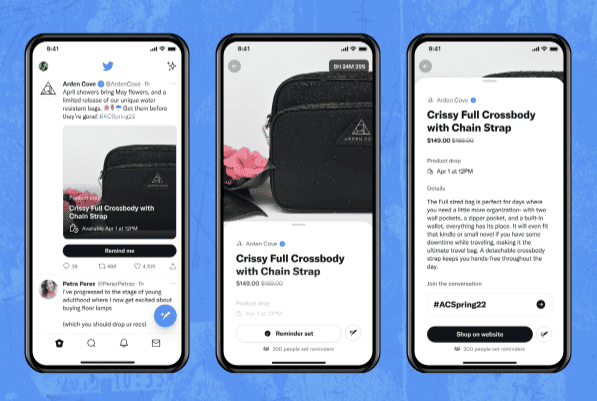 Product drops will show a "Remind Me" button once a merchant tweets about an upcoming product launch. Tapping the button allows notification 15 minutes before and at the time of the product launch. It will also open the product detail page with all the information about the product such as a clickable hashtag, description, images, and pricing. T
he clickable hashtag shows what other Twitter shoppers are saying about the product. Once notified, clicking the notification will show a "Shop on website" button.  That means one can be among the first to shop on the merchant's website.
Twitter introduces product drops on 08 June 2021. It is currently available to Twitter shoppers in the US using the English language on iOS.
Implications to Marketers:
Twitter product drops can be a great shopping option that marketers can offer. It is an easier way to notify followers about a new launch and make the buying journey faster.
Reference: https://blog.twitter.com/en_us/topics/product/2022/be-part-of-the-hype–introducing-product-drops