Twitter is now joining the eCommerce bandwagon. It now experiments adding a Shop button on Twitter cards. Just like other platforms: Facebook, Google, Instagram, Pinterest, and WhatsApp – Twitter is now working on digital shops.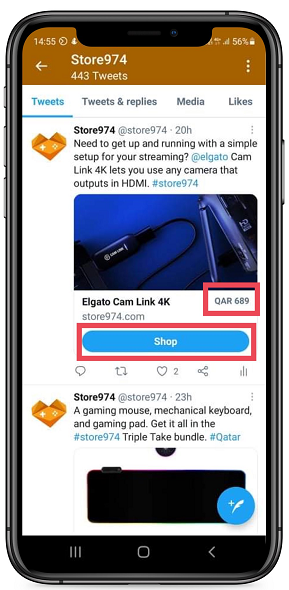 The planned testing was announced during the Analyst Day presentation of Twitter made on 25 February 2021. A new Twitter eCommerce card will show a large "Shop" CTA. The button links to a business transaction page. Each eCommerce card shows the product title and code and possibly the product price. Twitter is also looking to integrate the Mobile Application Promotion (MAP) on the eCommerce card. Such a system can help in advanced targeting and data capacity.
Twitter experiments adding shop button on Twitter cards as of 02 March 2021.
Implications for Marketers:
Twitter's Shop button can be a new way for marketers to increase conversion in the platform. As it makes shopping easier for users, there's a great chance for brands and businesses to boost income within the platform. Now, the question is, will Twitter charge a percentage for every sale? As they are still in the early stage, it's something that we should wait and see.
Reference: https://www.socialmediatoday.com/news/twitter-looks-to-get-in-on-the-ecommerce-boom-with-new-shopping-experiments/595988/