The power of voice is really conquering the Twitter nation. With an audio-based feature, Twitter focuses on giving a unique user experience. Twitter started testing Spaces in November 2020. Like the Clubhouse app, they are audio rooms where users can listen and participate in private discussions. The platform also enabled a dedicated Spaces tab to boost the discovery of such a feature. On 03 May 2021, Twitter globally launched Audio Spaces. The launch covers both Android and iOS devices. Today, Twitter enables scheduling Spaces.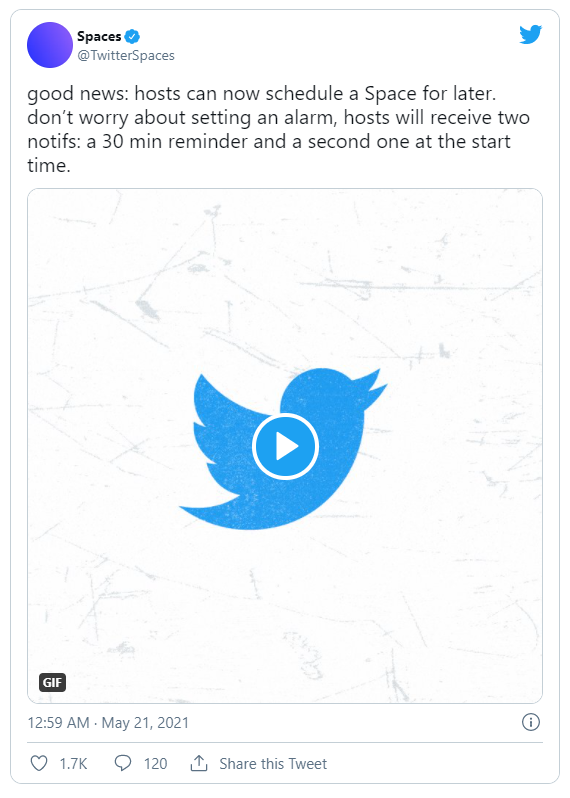 Space hosts can now schedule a Space event for later. This can help broadcasters build hype and plan upcoming Space events. The host will then receive 2 notifications once he or she scheduled a Space event. The 1st notification alerts the host 30 minutes before the event. While the 2nd notification alerts him or her at the start of the event. Users who sign up for a Space event can also "Set Reminder" prompts within the upcoming Space holding card.
To schedule a Space event, simply click "Schedule for Later" beneath the "Start your Space" button. The details of upcoming Spaces can be shared via tweets or direct messages (DM). Upcoming Spaces also have a unique URL that the host can share in other advertising channels, messaging apps, and social media accounts.
Twitter enables scheduling Spaces on 20 May 2021.
Implications for Marketers: 
Scheduling Spaces can make it easier for brands and creators to build hype and plan future audio engagements. As more people prefer authentic audio discussions, marketers can harness the power of Spaces to boost brand awareness and engagement among 199 million daily active users of Twitter.
Reference: https://www.socialmediatoday.com/news/twitter-adds-scheduling-for-spaces-reminders-to-attendees/600576/