Snapchat continues to rise on the trend as they released a new immersive AR experience inspired by the Lunar New Year. Today, the top multimedia instant messaging app continues to soar by reaching 13 million more added users. That makes 319 million in the overall based on the report on the fourth quarter of the year.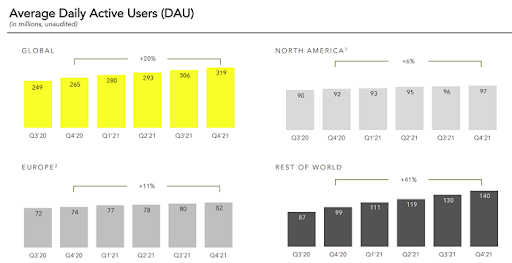 Looking at the data provided in Snapchat's quarterly report, the application's users have increased 20% yearly, especially in their segment "Rest of the World" which contributed 10 million more audiences.
The number of users in India was seen as growing as TikTok was banned in the country due to its ongoing border dispute. Thanks to Snapchat's "Spotlight," a TikTok-like feature that also offers 60-second videos by creators, it attracts more audiences and supports the boom in user performance. This is a good strategy of the application as they promote wide-ranging offerings which help in the strengthening of the in-app engagement.
Snapchat's last quarter report is published on 3 February 2022.
Implications for Marketers:
While Snapchat proves itself in offering new and improved features to create a more inclusive, borderless environment, it can be implied that geographical locations also play an important role in the overall success of user performance. As TikTok is not available in some countries like India, it is a good strategy for marketers to use social media platforms like Snapchat in engaging and reaching more users. Much more, because of the increase in Snapchat's daily active users, marketers may be able to gain more exposure for their brands globally.
Reference: https://s25.q4cdn.com/442043304/files/doc_financials/2021/q4/Q4'21-Earnings-Slides.pdf