Facebook, WhatsApp's parent company, has been developing its Shops feature for both Facebook and Instagram. It is also currently looking for a way to integrate WhatsApp with eCommerce and make use of its 2 billion active users. On 9 July 2020, WhatsApp announced that it has added two new features to the app that would help steer it in that direction.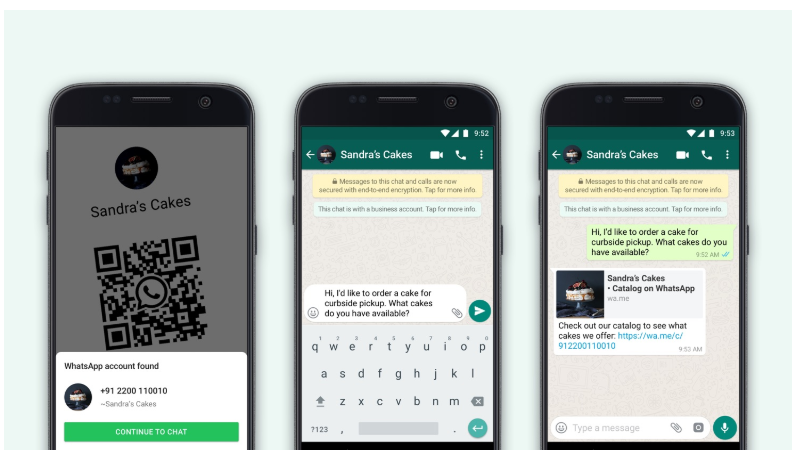 The first feature is WhatsApp's new addition of QR codes for businesses. QR codes have been around for a while and they offer an automated way for users to send information to one another. WhatsApp's new QR codes for businesses allow WhatsApp users to instantly connect with brands across the platform. By using a business's QR code, users can instantly start messaging and communicating with the brand.
Messenger and Instagram both have QR codes, but the concept never really took hold in Western markets. However, it is widely popular in the Asian market. Because the app does not have as many features as other social media platforms, QR codes could provide users with a more diverse experience, and it would provide an easier way to connect with businesses.
Brands can add their WhatsApp QR codes to their content to get users to connect with them more easily.
WhatsApp is also adding new catalog links so that brands can promote their products throughout the app. It could be a good way to show WhatsApp users what the brand can offer without them having to use another platform.
These new features are part of WhatsApp's initiative to get into eCommerce. It's the most popular messaging platform in a lot of regions, so Facebook is looking for ways to make the app more user-friendly.
Because of limited features, Facebook's messaging platforms WhatsApp and Messenger offer brands fewer advertising opportunities. However, Facebook is looking to turn them into payment platforms instead.
Implications for Marketers:
These new additions to WhatsApp's platform could turn it into a valuable tool for business. These will allow brands to use WhatsApp to expand their engagement and would allow for quicker communication between brands and consumers. Marketers could start looking into strategies to effectively advertise brands across WhatsApp's platform.
Reference:
https://blog.whatsapp.com/new-ways-to-reach-a-business-on-whatsapp