Like Facebook, Instagram aims to help businesses and brands better connect to shoppers. They are continuously working on ways to enable them to sell to the audience. As such, Instagram adopts New Commerce Eligibility Requirements.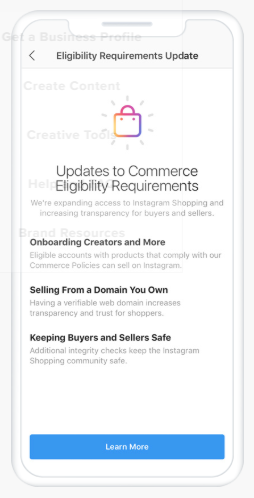 The New Commerce Eligibility Requirements open new eCommerce options to brands and creators alike. The updates include:
Selling from the store's domain.
An Instagram profile can use shopping tags by linking at least one eligible product to an owned store or website. This gives Instagrammers a consistent experience. Shopping tags that lead to a company website build more trust in users. It makes them know they're on the right source. Brands can also connect shopping tags to an owned store or website then to an approved eCommerce platform. Some approved eCommerce platforms are BigCommerce and Shopify. Amazon and RedBubble are not yet accepted.
New Sign-Up Flow
Instagram will immediately notify businesses disapproved of their shopping tags application. The notification includes a clear reason for the rejection. As such, they can take the necessary actions or appeal. New business approved will now go through an updated onboarding flow. While existing businesses will receive instruction on how to follow the new updates.
Instagram will adopt these new commerce eligibility requirements effective 09 July 2020 to all Instagram Shopping supported countries.
Implications for Marketers:
Instagram's New Commerce Eligibility Requirements start a new perspective on Instagram Shops. Such may be a stricter policy for businesses and brands. But, it could start Instagrammers being accustomed to purchasing on the platform. Marketers should see to it that their Instagram post and eCommerce website sync in real-time. With the right content, you can easily be ahead of the pack. It can drive more conversions as it makes the shopping experience easier. At the same time, you have an effective platform to share the brand across the world.
Reference: https://business.instagram.com/blog/upcoming-changes-commerce-eligibility-requirements/#