LinkedIn is known as the number one platform when it comes to lead generation. It's a professional networking site that houses decision-makers in a company or business. As such, Linked ads result in a 3.5x higher conversion rate. Yet, LinkedIn is a learning curve. It's an art and a science that one needs to master. To help marketers, LinkedIn launches a learning center for ads which it calls the "Marketing Labs."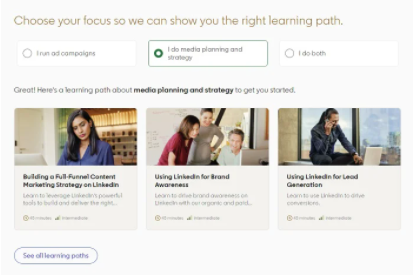 Marketing Labs is an education platform that hosts curated courses about LinkedIn's marketing tools. The courses help marketers learn how to effectively use LinkedIn ads. They also suggest strategies and tactics that drive better business results. LinkedIn's learning center features courses that offer step-by-step training made by their in-house experts. They were based on the best practices across different customers and industries. Among the initial courses available in LinkedIn's learning center are:
Just visit the LinkedIn Marketing Labs hub, choose a primary focus, and complete a self-assessment to access a course. Each course will last about 45 minutes.
LinkedIn launches a learning center for ads as of 14 January 2021.
Implications for Marketers:
As LinkedIn launches a learning center, marketers should take advantage of the free courses it offers. They can help shape up a LinkedIn marketing plan. Besides, the best practices and pointers on LinkedIn's intricate ad system can help brands maximize their LinkedIn ads and campaigns.
Reference: https://business.linkedin.com/marketing-solutions/blog/linkedin-b2b-marketing/2021/linkedin-marketing-labs–all-new-on-demand-learning-center-for-a