In late August, Instagram launched new Feed Control tools. Now, the app is experimenting with adding categories to Reels submissions to better organize video.
As user, Jacki Pitkow, tweeted (and shared by Matt Navarra), the new "Topics" feature helps you find others who share your interests.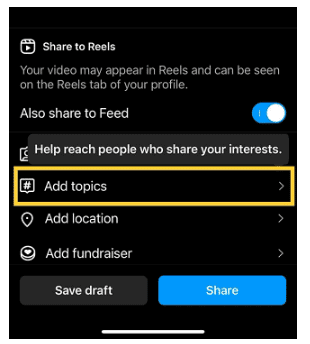 It might help Instagram enhance its Reels recommendation algorithm, a current priority.
Instagram wants you to watch more Reels, so it's everywhere in the app.
Instagram Reels upload tests Add Topics on 5 September 2022.
Implications for Marketers:
That might help Instagram expose your content to a more engaged, interested audience, boosting your Reels performance and helping you connect with more brand/content fans.
Reference: https://www.socialmediatoday.com/news/instagram-tests-new-add-topics-option-in-the-reels-upload-process/631189/