Last December, Twitter added new updates on their Explore tab, which allows people to find and discover top trend tweets and best content. Today, Twitter launches its newest feature called Toolbox Hub. The feature offers new ways to help marketers to take their Twitter marketing and growth process to a whole new level by highlighting helpful, reliable Twitter analytics and creation tools.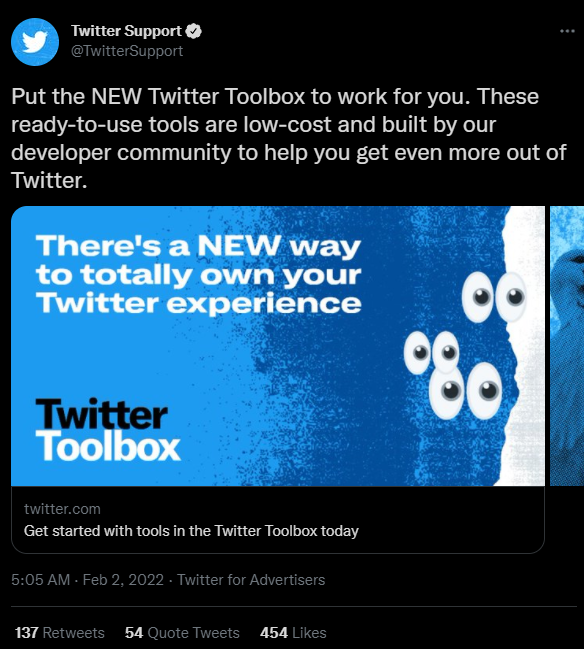 The spice up continues as Toolbox Hub is composed of three sections. These are the following:
Expression Tools – marketers get to utilize apps such as Chirr App, Thread Reader App and Buffer for writing, sharing and even scheduling Twitter threads and contents.
Safety Tools – Marketers need not to worry any more about the increasing circulation of trolls on the internet especially on Twitter, as they can also explore and utilize applications such as Moderate, Bodyguard and Block Party. Goodbye, trolls! A zone that's more safe and protected thanks to the newest feature.
Measurement Tools – This would likely be the most catching part of the feature since Twitter Analytics also includes third-party applications under this that will help marketers in better understanding of their tweet performance.
Twitter Launches Toolbox Hub on 2 February 2022.
Implications for Marketers:
Toolbox Hub is a good way for marketers to stay on Twitter as going to third- party applications would also cause some time. However, this is still one of the possibilities that the platform would offer in the next few months or years. Creating a more dynamic flow for marketers for their brand is also an ongoing process for these big social media platforms, as the number of users increases.
Reference: https://twitter.com/TwitterSupport/status/1488619414584922116