Twitter users are now raising their privacy concerns on tip jar payments. Yesterday, Twitter launched the tip jar button. It is a new way for Twitter creators, experts, journalists, and nonprofits to receive payments from their followers. Tipping can be made via Bandcamp, Cash App, Patreon, PayPal, or Venmo. Twitter does not charge a fee for such payments.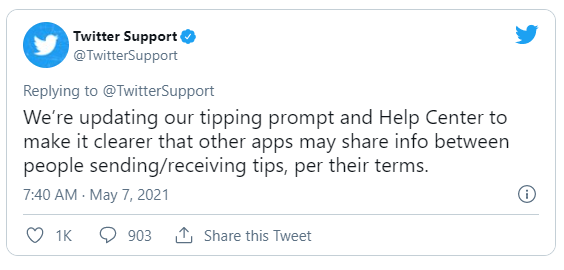 Unfortunately, Twitter users notice significant privacy issues in the payment process. Rachel Tobac, a cybersecurity expert has noted that tipping via PayPal inadvertently shares the payor's address. This seems a fairly significant privacy concern. Twitter has quickly addressed the issue. The platform has now updated its tipping prompt into 2 choices:
Any "goods and services" payment shares the payor's address.

While choosing "friends and family" payment does not submit the address and contact details.
So, now, Twitter users can send a payment according to their preferences.
Another concern on the tip jar button is its easy way to request payment from Twitter users. This can be annoying if they lead to a flooding of payment requests. Twitter is now working on ways to solve such a concern.
Twitter users raise privacy concerns on tip jar payments as of 07 May 2021.
Implications for Marketers: 
Just like Instagram's donation stickers, the tipping button of Twitter aims to help its user to send and receive payments. With a little more enhancement, this can be a significant eCommerce move to Twitter marketing. For now, it can help creators, experts, journalists, and nonprofits to expand getting revenue from Twitter. Sooner, it may be a means for brands to boost conversions on flash sales.
Reference: https://www.socialmediatoday.com/news/twitters-new-tip-jar-button-leads-to-privacy-issues-requests-for-paymen/599823/