Twitter is looking to give its users a better platform experience. It enabled a 30-minute edit button, tweet storm, and visual editor. Today, Twitter runs a live test of 'edit tweet.'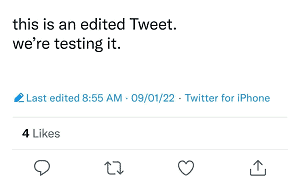 Edit tweet lets people make changes to a published tweet within 30 minutes. It allows them to fix missed tags, typo errors, and more. Users can also edit alt text, images, and videos. An edit tweet will appear with an icon, label, and timestamp. Tapping the label allows readers to see past versions of the tweet. Twitter is currently testing"'edit tweet" to a small group of users. The platform plans to expand it to Twitter Blue later this month.
Twitter runs a live test of 'edit tweet' on 01 September 2022.
Implications to Marketers:
"Edit tweet" can be a good option for marketers to modify ads and campaigns at the last minute. Instead of going through a tedious reupload, it will be easier to do some minor changes instead.
Reference: https://blog.twitter.com/en_us/topics/product/2022/twitter-new-edit-tweet-feature-only-test