Twitter recently launched a new test in which users may now control and customize the speed at which videos and audio are played in the app. Today, the company is back at it again with another feature for NBA fans. Twitter wants to help users get involved with the events brought by its NBA All-Star Weekend by offering a variety of bespoke hashflags and live activations that will bring Twitter's worldwide audience into the celebration.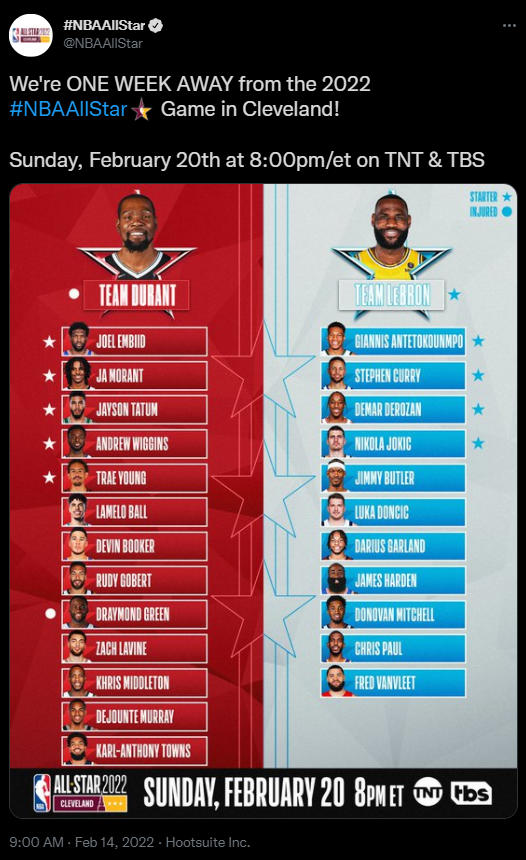 Twitter unveiled its newest hashflags, the most relevant of which is a dual-colored star icon linked to the hashtag #NBAAllStar.
They also added #TeamLebron and #TeamDurant icons, giving users yet another chance to interact with their favorite All-Star team and stars. Twitter is also collaborating with the NBA to link HBCU Classic players with NBA All-Stars. The excitement builds as Twitter partners with the NBA to promote the All-Star Celebrity Game, whose lineup was initially revealed on Twitter Spaces, and hosts two #NBATwitterLive shows and two Twitter Spaces during All-Star Weekend.
Twitter announces new All-Star Weekend activations on 18 February 2022.
Implication for Marketers:
This will allow them to gain more audience and more potential customers, while the audience enjoys watching. The opportunity to meet their favorite basketball players, most especially Lebron James and Kevin Durant, will surely be hyped up and increase ticket sales. There is also a chance that they will avail their shoe collections and other NBA merchandise, which is a good marketing strategy to increase brand awareness.
Reference: https://twitter.com/NBAAllStar/status/1493027343103049729?cxt=HHwWgoDSmamdprgpAAAA