Are you familiar with TweetDeck? If you are a social media manager, you may have been using such an app to manage multiple Twitter accounts. Today, Twitter is beta-testing an upgraded Tweetdeck version. This is the major overhaul that the platform has been working on since January.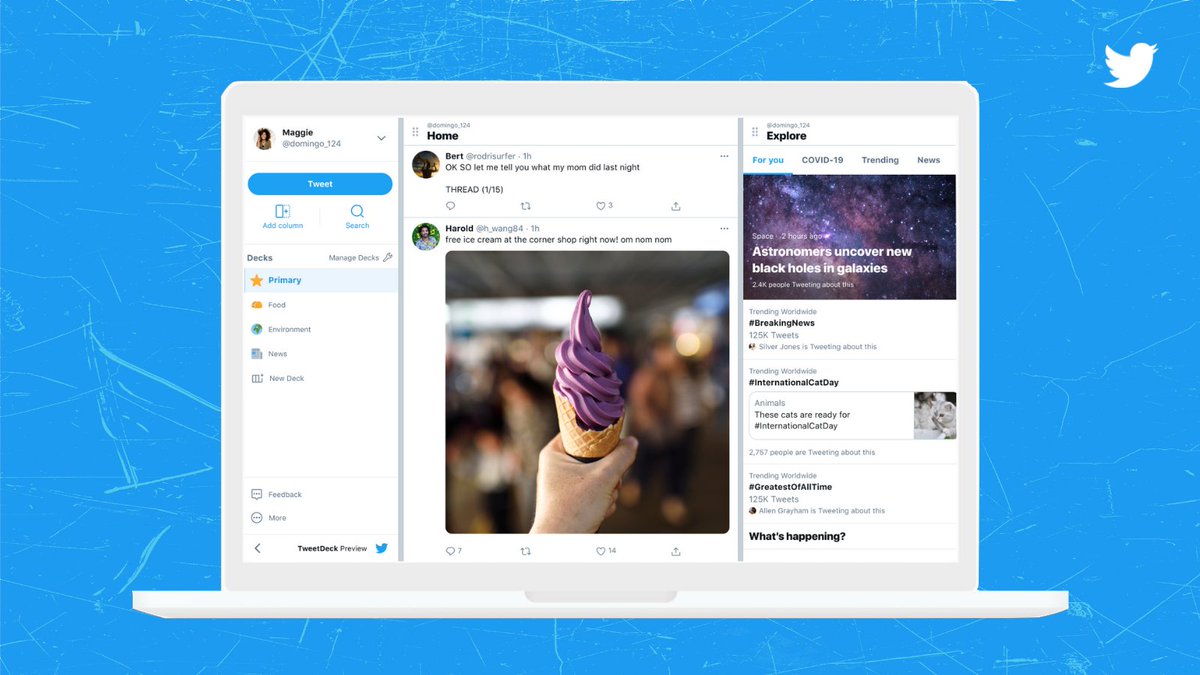 TweetDeck, a customizable tool that allows users to view multiple Twitter timelines in one interface. It is currently available for iOS users via  tweetdeck.com. All you need to do is download the app and log in using the access on your Twitter account. Once you have logged in, you can connect to an unlimited number of Twitter profiles. You can also set up a  set up a team account via the app. Just click "Accounts" in the navigation bar and tap "link another account." You will need to enter the username and password of the new account and then, click "authorize." Moving forward, you can remove the other account anytime you want by going back to "Accounts", expanding the account you wish to delete, and tapping "leave the team." The upgraded version of TweetDeck features new column layouts, "Decks", and enhanced search tools.
Column Layouts
TweetDeck now allows users to resize and shift columns on-screen. Users can now expand or shrink a column to customize the screen. The new addition is optional as users can still keep the columns to how they are right now.
Decks
TweetDeck also adds a new "decks" building tool. This creates a new series of columns presented as a secondary dashboard. As such, users can build more decks focused on different goals. Users can access secondary decks via the sidebar options.
Enhanced Search Tools
The new TweetDeck provides advanced search parameters from Twitter making it easier to search profiles and topics.
The upgraded TweetDeck version is currently available to a small group of selected users from Australia, Canada, and the United States. Twitter is beta-testing an upgraded Tweetdeck version as of 20 July 2021.
Implications for Marketers: 
TweetDeck is a great tool for marketers to manage multiple Twitter accounts. By expanding its functionality, brands can benefit from using the interface as a key tweet management platform. Reports have noted that Twitter may switch TweetDeck into paid subscriptions. If the platform can further enhance such an app, it may be a hit among social media managers.
Reference: https://www.socialmediatoday.com/news/twitter-launches-the-first-stage-of-testing-for-its-new-and-upgraded-tweetd/603646/