Discovery is an important part of every social commerce. That is why Twitter started upgrading its search options and tools to level up eCommerce. First, the platform enabled a search icon on the home tab. It allowed users to make a quick search right after opening the Twitter app. Second, the platform also added a search prompt under Settings and Privacy. It will highlight relevant pages based on a keyword query. Today, Twitter enables keyword searches in DMs.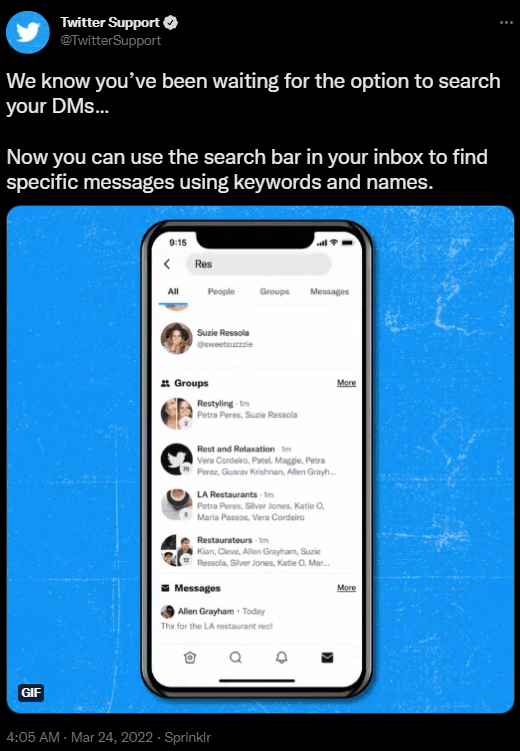 Since the first week of January, Twitter started working on an option to search via usernames on direct messages (DM). A "Search Direct Message" option appears beside the Twitter profile image. It allows the Twitter nation to search for people and groups based on their usernames in direct messages.
Today, Twitter users can use the search bar on DMs to find specific messages using keywords and names. DM search options can also be filtered into 4 segments:
Choosing "All" displays all the results for a query including groups, messages, and people.
Choosing "Groups" shows group chats.
Choosing "Messages" displays keyword matches on specific messages.
Choosing "People" shows relevant usernames.
Twitter enables keyword searches in DMs on 23 March 2022.
Implications for Marketers:
Twitter's DM keyword searches can help marketers track down past conversations about customer support and product queries. It makes scanning past interactions easier to chase up brand engagements.
Reference: https://twitter.com/TwitterSupport/status/1506723722824232960