Online shopping has significantly changed today. With lots of technology innovation and trends, it makes it easier for people to find the right product they are looking for. In June 2019, Google started testing AR try-on with Mac cosmetics. By December 2020, it officially launched such a shopping innovation with added partners including Black Opal, Charlotte Tilbury, and L'Oreal. Similarly, Snapchat partnered with Levi's to introduce Bitmoji fashion. Today, Pinterest expands "AR Try-Ons" for eyeshadow.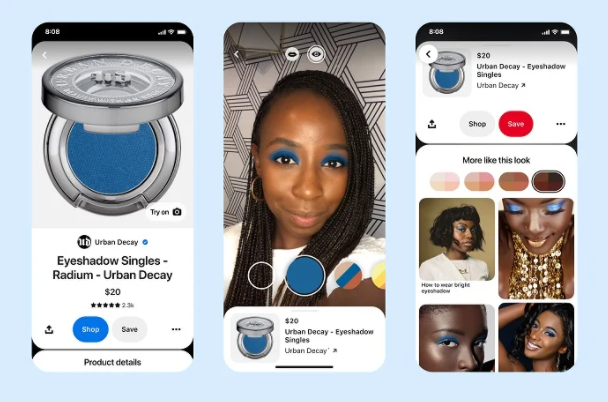 Last 28 January 2020, Pinterest enabled AR try-on among lipsticks. It allows pinners to virtually try-on different lipstick shades from brands like 
bareMinerals 

L'Oreal brands 

Lancôme

Neutrogena

NYX Professional Makeup 

Estée Lauder

Sephora, 

Urban Decay

YSL Beauté
When pinners search for lipsticks from the abovementioned brands, a try-on button will appear on the pin to allow users to try on different lipstick shades virtually.
The latest update expands AR try-on among the eyeshadow lines of Lancome, NYX Cosmetics, Urban Decay, and YSL. Around 4,000 eyeshadow shades are available to choose from. Eyeshadow AR try-on also works in conjunction with the lipstick AR try-on. So, pinners can mix and match shades using virtual cameras. Pinterest also features suggested eyeshadow and lipstick shades that match one's skin tone once AR try-on is enabled. 
Pinterest expands "AR Try-Ons" for eyeshadow as of 22 January 2021. 
Implications for Marketers:
With the rise of AR try-on, Pinterest and other platforms are changing the way people shop. For marketers, this can be a good opportunity to boost conversion within a brand's digital market. By leveraging the power of augmented reality, they can make the buying process easier with users doing the purchase online. There's no need to visit brick-and-mortar stores to try-on products. With just one click of a button, you can find the right product that matches the shopper online.
Reference: https://www.socialmediatoday.com/news/pinterest-adds-new-ar-try-on-tools-for-eyeshadow-expands-product-tagging/593703/