LinkedIn targets professional engagement and growth. That is why the platform continuously adds features and tools to manage its online presence. It enabled new visual content options, pin comments, and scheduling live streams. Today, LinkedIn enables post scheduling.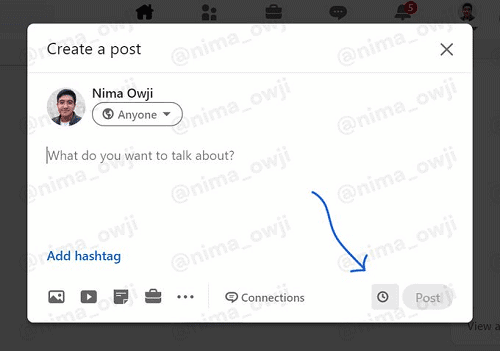 App researcher Nima Owji tweets the update. The image shows a clock icon at the bottom of the post creation page. It allows scheduling a LinkedIn post on a specific date and time. Linked announced that such a feature will be available to all members and pages soon.
LinkedIn enables the scheduling of posts on 31 August 2022.
Implications to Marketers:
LinkedIn's post scheduling can be a handy addition for marketers to manage marketing calendars. It can help them maximize brand awareness and reach through the proper scheduling of LinkedIn content.
Reference: https://app.clickup.com/t/3d418n6