Instagram aims to understand marginalized communities. It is to give a better user experience respecting ethnicity or race. Last April, the platform formed an Equity Team to promote diversity & inclusion. It also enabled Black-owned labels for Black-owned businesses. Today, Instagram launches an ethnicity survey.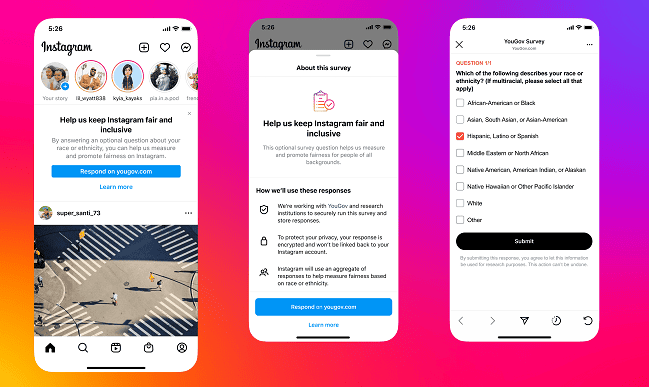 Over the next few months, a prompt will ask Instagrammers in the US about their ethnicity or race, although it is 100% voluntary. It will then lead to an ethnicity survey run by YouGov. YouGov is a global data and public opinion research group. The ethnicity survey is encrypted, so Instagram cannot connect the responses to their IG accounts. Partner research institutions will store de-identified responses within 30 days. These include Oasis Labs, Northeastern University, Texas Southern University, and the University of Central Florida. YouGov and partner institutions will provide an aggregated report to Instagram, which will be used to improve user experience.
Instagram launches an ethnicity survey on 28 July 2022.
Implications to Marketers:
It makes sense for Instagram to launch an ethnicity survey. Such aggregate reports can help marketers better understand the users' perspectives.
Reference: https://about.instagram.com/blog/announcements/collecting-and-measuring-demographic-information