Facebook users increase in the 3rd quarter of 2020 by 35 million. From 1.785 million, it now has a Daily Active Users (DAUs) of 1.82 million. The last Q2 2020 Results of Facebook showed an increased DAUs of 100 million. The trend shows that Facebook users are steadily rising despite the COVID-19 pandemic. We may say that this is because of the platform's continuous effort to make it easier for brands and consumers to connect online.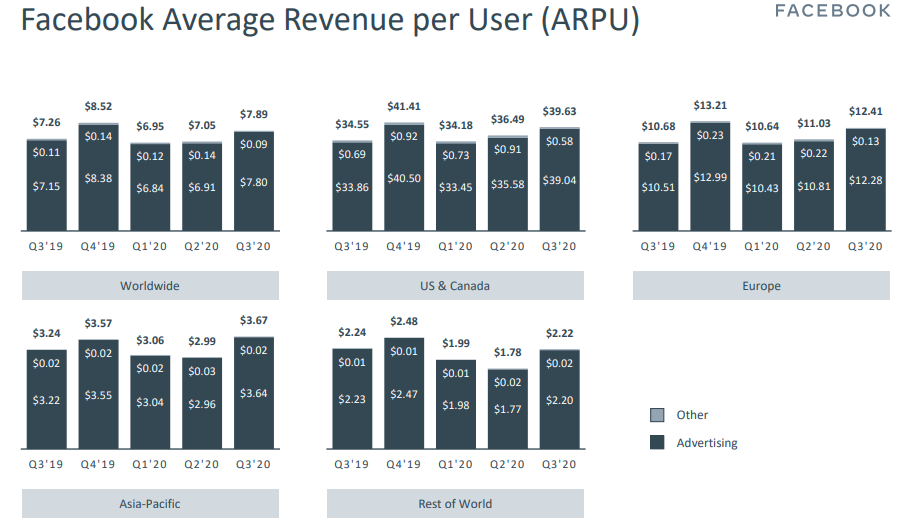 In the past few months, Facebook added business chat plugins, discovery tools on Messenger Rooms, earnings through Stars, and music videos on Watch. They've also integrated Facebook and Instagram messaging into Messenger. Facebook's Q3 2020 Results showed a slight decline of users within the U.S. This may be attributed to Facebook's campaign to pay a select number of users to deactivate their account before the elections. But in the Asia Pacific region, Facebook's users are steadily growing. Overall, Facebook revenue increases to $21,470 million.
Implications for Marketers:
The increase in Facebook's revenue and users for Q3 2020 is a clear sign that the platform is still the leading social media platform. Marketers must have Facebook as a part of their digital campaigns and marketing strategies. With 3 billion monthly active users, brands can better reach their target audiences. It also gives faster results on marketing objectives. 
Reference: https://s21.q4cdn.com/399680738/files/doc_financials/2020/q3/FB-Q3-2020-Earnings-Presentation.pdf