Here's part 3 of Facebook's Social Skills video series. The focus on such an episode is "Ad Placement." Facebook Social Skills was a 7-episode experts interview launched last 17 March 2021. Its goal is to help brands improve social media management skills. The 1st part talked about brand storytelling. The 2nd part talked about community building. Today, Facebook Social Skills video series part 3 focuses on "Ad Placement."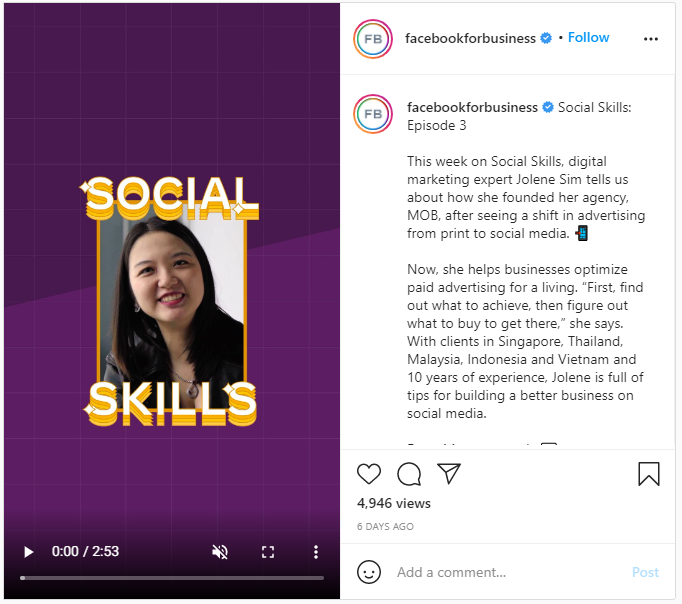 Jolene Sim, Director/Founder of MOB Mainstream Online Buzz, talks about how the company started and became successful as a social media agency. Jolene founded MOB in June 2010 as a print ad agency. Like other startups, they struggled to find clients. So, what they did is they offer banks, telcos, and other prospects a package deal of magazine ads and social media campaigns. Eventually, the social media campaign became a hit. Thus, the company shifted its focus from print ads into digital marketing. Today, MOB serves clients from Indonesia, Malaysia, Singapore, Thailand, and Vietnam.
KEYNOTES
Among the keynotes of Jolene's interview are:
Buy ads that align with your business goals

. Based on experience, Jolene realizes that a lot of mistakes happen in the planning phase rather than the execution phase. So, brands need to find out what they want to achieve and go backward and figure out what to buy to get there. This means having a definite goal for every ad placement.

Try Messenger ads

. According to Jolene, Messenger

bot

ads are customer service-optimized, faster, and more natural. They are a great way to build connections with an online community.

Use dynamic ads

. Facebook's

dynamic ads

allow brands to do a/B tests to determine which ad combination works well. It isn't hard to impact and can help brands generate leads and sales.  
Facebook Social Skills video series part 3 – "Ad Placement" was aired on 31 March 2021.
Implications for Marketers:
Facebook Social Skills video series part 3 provides real-world insights about ad placement. For marketers, this short video clip is something worth watching. Social media advertising includes a lot of budget and media planning plus creatives in between. What's important is to carefully plan a combination of content and ads to achieve business goals. 
Reference: https://www.socialmediatoday.com/news/facebook-provides-ad-placement-tips-in-latest-social-skills-video/597701/