Facebook is still the king of social media. As it became the leader of social media platforms in 2020, it continues to connect and engage brands and people alike. Today, Facebook reports revenue and user growth in Q1 of 2021.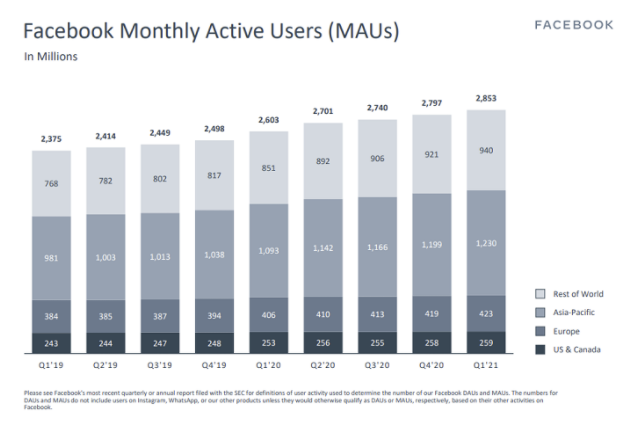 Facebook's monthly active users are now at 2.85 billion as of Q1 of 2021. Again, the biggest growth of users comes from the Asia Pacific Region. Indonesia is now Facebook's 3rd largest market before India and the US. There are around 140 million people in Indonesia today actively using Facebook.
Facebook also reports 48% year-over-year revenue in Q1 of 2021. Its average revenue per user (ARPU) in Q1 of 2020 was $6.95. In Q1 of 2021, it's now at $9.27. Still, the North American Region is where Facebook earns a large part of its revenue.  This was followed by the European Region. While the Asia Pacific comes 3rd in line.  
Facebook reports revenue and user growth in Q1 of 2021 as of 28 April 2021.
Implications for Marketers:
Facebook's revenue and user growth in Q1 of 2021 is a clear indication of the platform's stability as a social media network. Even though Apple will now implement the iOS 14 privacy update, the app may be affected but not defeated. Marketers should never ignore the power of Facebook as it partnered with Shopify to boost eCommerce. Nevertheless, there is a high chance that Facebook will be a significant platform for video advertising.
Reference: https://www.socialmediatoday.com/news/facebook-posts-strong-revenue-result-though-active-usage-growth-is-slowing/599251/