The spread of misinformation has been a common challenge among social media platforms. Twitter, for once, is testing Birdwatch, a community-driven approach, to rate the accuracy and truthfulness of a tweet. Instagram, on the other hand, has globally expanded its fact-checker program. Early this month, Facebook is warning alerts to decrease the sharing of unread links. Today, Facebook redesigns its misinformation alerts.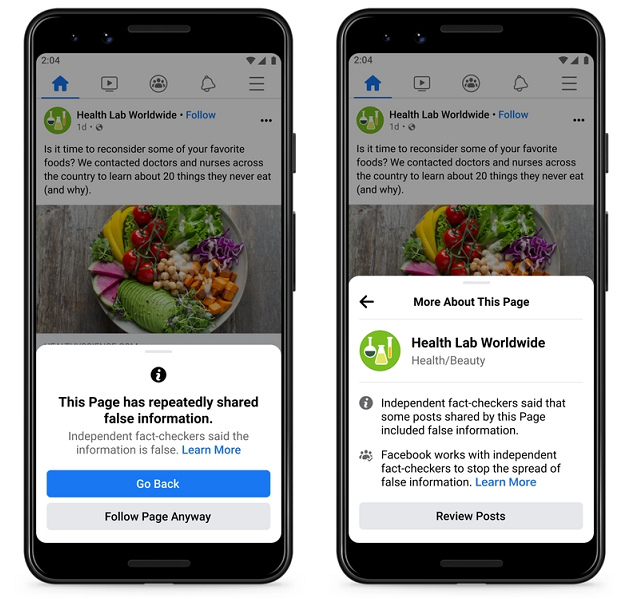 Facebook's redesign misinformation alerts aim to impose sanctions on Facebook users repeatedly sharing misinformation. First off, before a user follows a page, an alert will pop up to show if a page has repeatedly shared false information. The "Learn More" button leads a user to a comprehensive report of the false information posted by the page. Users can also choose to follow or not to follow a page based on their discretion. 
Starting today, individual accounts will also be penalized if they are found repeatedly sharing false information. The penalty is a reduction in the distribution of posts within their news feeds. This is the same penalty given by Facebook among domains, groups, and pages tagged by the fact-checker program as repeatedly sharing misinformation. An individual account will now receive a notification explaining the debunk claim and further notify the user about the consequences of sharing misinformation. 
Facebook redesigns its misinformation alerts on 26 May 2021.
Implications for Marketers: 
Facebook's redesign misinformation alerts are a clear move to combat fake news and false information. For marketers, these level up the competition among brands to give truthful product descriptions. By being honest in marketing to the Facebook community, brands and businesses will reap the buying power of 2.85 million Facebook users.
Reference: https://www.socialmediatoday.com/news/facebook-adds-new-alerts-and-individual-user-penalties-to-help-stop-the-spr/600874/