It is true that today, people are going social. They go to social media accounts to connect to the world and search for products, news, services, and trends. Social media platforms make it easier to build communities and do businesses. Yet, it also has a downside. Sometimes, users are careless enough to share articles or links they haven't read. In most cases, these articles and links are not accurate and are sometimes harmful to others. This is the reason why Twitter rolled out alerts to ask users to rethink before sharing tweets. Recently, Instagram followed suit by testing re-share stickers for Stories. Today, Facebook tests warnings to stop sharing unread links.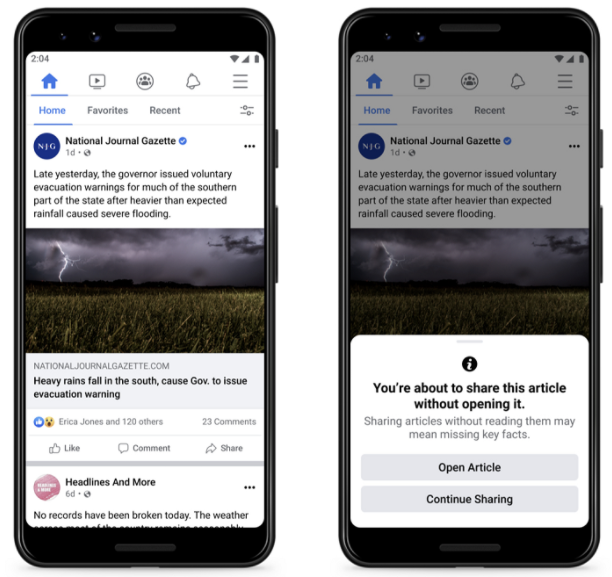 According to a tweet from Facebook Newsroom, the platform wants to encourage the informed sharing of articles and links. Starting today, Facebook users who will share unopened articles or links will receive a warning. The prompt encourages the sharer to read the content first before sharing it. The message shows like this:
"You're about to share this article without opening it.
Sharing articles without reading them may mean missing key facts."
Facebook tests warnings to stop sharing unread links as of 10 May 2021.
Implications for Marketers: 
Facebook's test to warn users from sharing unread links can help reduce angst and misinformation. Such a small measure gets people to read the content before sharing it. For marketers, this can boost the reach of branded ads and content which most Facebook users commonly ignore. The key is to write eye-catching headlines and educate the audience with any content.
Reference: https://www.socialmediatoday.com/news/facebook-tests-new-warning-prompts-on-to-stop-users-sharing-articles-they-h/599909/