TikTok is now seeking to increase its revenue potential via eCommerce. Initially, the app was launched for fun and entertaining short video clips. With its phenomenal success, other platforms tried mimicking it. Instagram launched Reels. Snapchat rolled out Spotlight. YouTube created Shorts. Most businesses are then using short video clips for their ads and campaigns. So, TikTok decided on an eCommerce push. Here's a preview of TikTok's eCommerce ads. TikTok has more than 732 million global users. Around 100 million of them are based in the U.S. A study showed that most TikTokers trust online reviews about brands on TikTok. As such, TikTok is the number one platform that inspires impulse buying. So, the app decided to venture into eCommerce.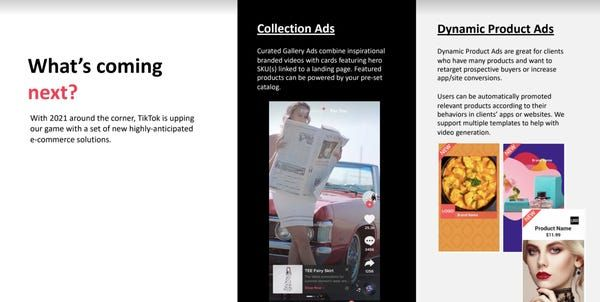 New Shopping Tools on TikTok
Tiktok will be adding a new range of shopping tools as follow:
Collection Ads

. These are a combination of branded videos and product catalogs. It aims to guide TikTokers with relevant products on the video clips. 

Dynamic Product Ads

. These are automatically retargeted ads based on a TikToker's activities via the advertisers' app and websites.

Promo Tiles

. These are customizable promotional and sales alerts showing within the feeds of active TikTokers.

Showcase Tiles

. These are relevant product promotions visible as thumbnails at the bottom of a TikTok screen.
A preview of Tiktok's eCommerce ads was shown last 13 April 2021.
Implications for Marketers:
TikTok has already proven to be a key platform in brand and product discovery. Its new eCommerce ads open up opportunities for marketers to explore. With a better revenue-sharing opportunity, it may be smart for a brand to have TikTok as a part of its digital marketing strategy. The key is to create engaging video clips partnered with relevant product offerings. 
Reference: https://www.socialmediatoday.com/news/tiktok-previews-coming-ad-and-product-display-options/598336/