The blue tick is one of the most sought-after elements of a social media page. It shows that an account is legitimate and verified. Unfortunately, Twitter has been heavily challenged with its verification process. Its original program started in 2009 but was halted in 2017. Last May, the platform relaunched account verification but put it again to halt after a week. Twitter was about to roll a new verification process this month but paused it again.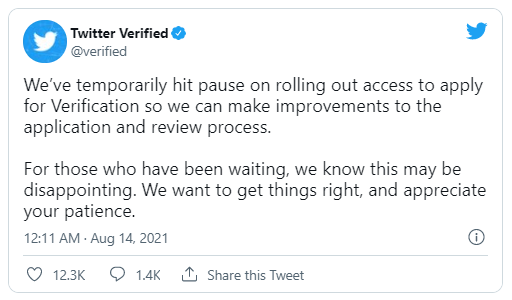 What Twitter pauses is the expansion of its new verification process. According to Kayvon Beykpour, Twitter Product Lead, the application was paused until Twitter can handle the scale. Initially, the problem with Twitter's verification process is its full automation. "Bot" accounts and spammers were able to infiltrate the program. Even manual intervention on the final stage was not able to control it. The recent rollout of Twitter's verification process was flooded with overwhelming requests. It is another reason why Twitter put it on a halt right after a week.
Twitter pauses the rollout of its new verification process on 16 August 2021. 
Implications for Marketers: 
Twitter's verification process aims to authenticate the identity and voice of a Twitter account. But it seems that Twitter was not able to organize the program well. For marketers, getting a blue tick equates to reputation – proof that the profile is a legitimate business. Let's wait and see as Twitter polished its verification process.
Reference: https://twitter.com/kayvz/status/1426333342530564100?ref_src=twsrc%5Etfw%7Ctwcamp%5Etweetembed%7Ctwterm%5E1426333342530564100%7Ctwgr%5E%7Ctwcon%5Es1_&ref_url=https%3A%2F%2Fwww.socialmediatoday.com%2Fnews%2Ftwitter-hits-another-hiccup-with-public-requests-for-verification-pauses-r%2F605021%2F