Twitter likes to educate all of its users and promotes a very welcoming atmosphere. An example of this was when Twitter opened Circles to all its users.
Today, Twitter has taken another big step to ensure everyone is on the right track. Twitter has introduced a new series of free 'Twitter Flight School' sessions to help businesses succeed on the service.
New seminars concentrate on two areas:
Twitter for Business
Twitter your holidays
How to Establish Your Commercial on Twitter will cover Twitter's newest business developments, including Professional Profiles, Shops, etc.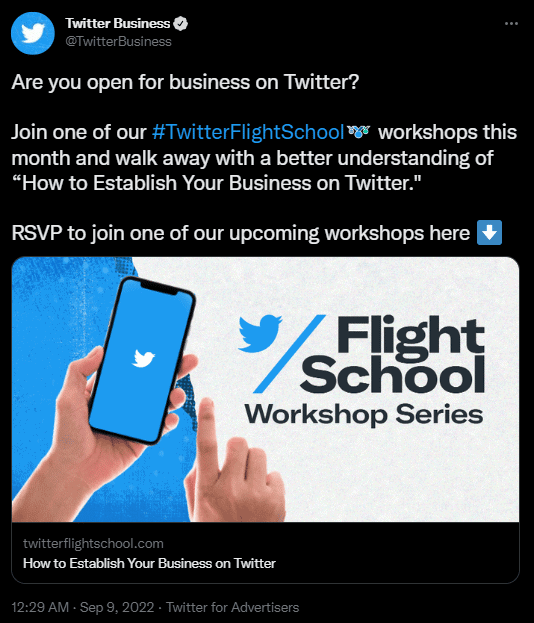 Our "How to Establish Your Business on Twitter" class will show you how Twitter for Professionals may help you expand your brand, how to create a spotlight for your business, and how to tweet confidently and communicate with your audience.
The second workshop, 'Get Seasonal Ready on Twitter,' will focus on holiday marketing trends in the app and how to use them to boost Christmas sales.
Twitter Product Marketing Manager Morgan Cornelius will lead the workshops on how to enhance your company' Twitter presence using new tools and techniques.
Sign up for future classes here for a holiday refresher.
Twitter announces Twitter Flight School on 9 September 2022.
Implications to Marketers:
This can help marketers maximize their business' presence on Twitter. It will also give them new ideas for a more effective campaign.
Reference: https://twitter.com/TwitterBusiness/status/1567913101294460932