TikTok has been making an eCommerce push. The platform enabled a business creative hub, creative video ads, eCommerce ads, and lead generation tools. Today, TikTok tests new engagement features.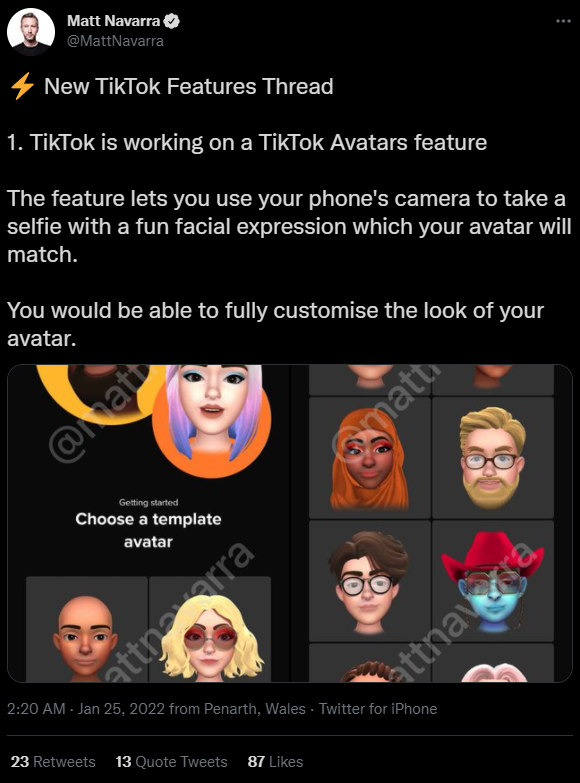 Avatars
This new TikTok engagement feature allows a user to take a selfie via a phone camera. TikTok will match the selfie with fun facial expressions with a customizable avatar.
Creator Subscription Features
TikTok is also experimenting with creator subscription features such as subscriber-only commenting and subscriber-only emotes. Under the settings menu, live subscription details will also show.
Group Chats
TikTok is currently experimenting with a group chat feature. Here, a user can share a link to invite others within the group chat.
Live Audio Rooms
Similar to the Clubhouse app and Twitter Spaces, TikTok is also currently experimenting with live audio rooms.
Screen Sharing in Live Streams
Screen sharing lets other viewers see your audio, camera, notifications, and other alerts in real-time. Currently, TikTok is working on this feature for live streams.
Search Filters
Soon, TikTok will let users filter searches via hashtags and keywords.
TikTok tests new engagement features on 25 January 2022.
Implications for Marketers:
TikTok's new engagement features are not yet in live testing. But marketers should keep an eye on them as they can bring more value to TikTok ads and campaigns.
Reference: https://twitter.com/MattNavarra/status/1485678911375687680