One of the much-awaited Twitter announcements is its brand bracket showdown. Such a competition aims to identify the best tweeting businesses. Last 14th of March, @TwitterMktg started accepting votes for the championship-level contenders. Today, it was announced that Skittles win Twitter's Brand Bracket 2022.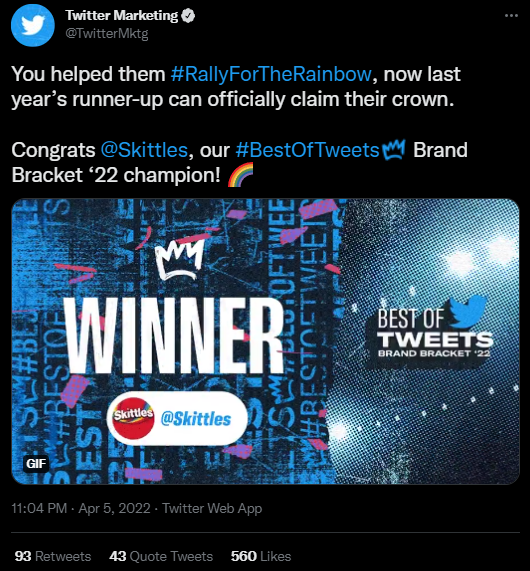 Last year, Skittles is the runner-up in Twitter's brand bracket competition. Today, Skittles emerges on top after defeating other brands. It was a head-to-head victory. As Twitter Marketing notes, Skittles helped the Twitter nation #RallyForTheRainbow, making it the champion of today's competition. Its social media team is its winning power. They are in tune with web trends and link into niche jokes for communities, ongoing memes, and popular fandoms.
Skittles win Twitter's Brand Bracket 2022 on 05 April 2022.
Implications for Marketers:
Twitter's Brand Bracket 2022 can be an inspiration for marketers to better understand boosting tweet appeals. By increasing chats and discussions for a brand, they can also boost awareness and engagement within tweets.
Reference: https://twitter.com/TwitterMktg/status/1511359033562832902