LinkedIn has been publishing guides to help marketers in their ads and campaigns from time to time. In 2021, it published two editions of the Return to Growth digital magazine. Today, after updating the sales navigator, LinkedIn publishes the Recharge Your Marketing 2022.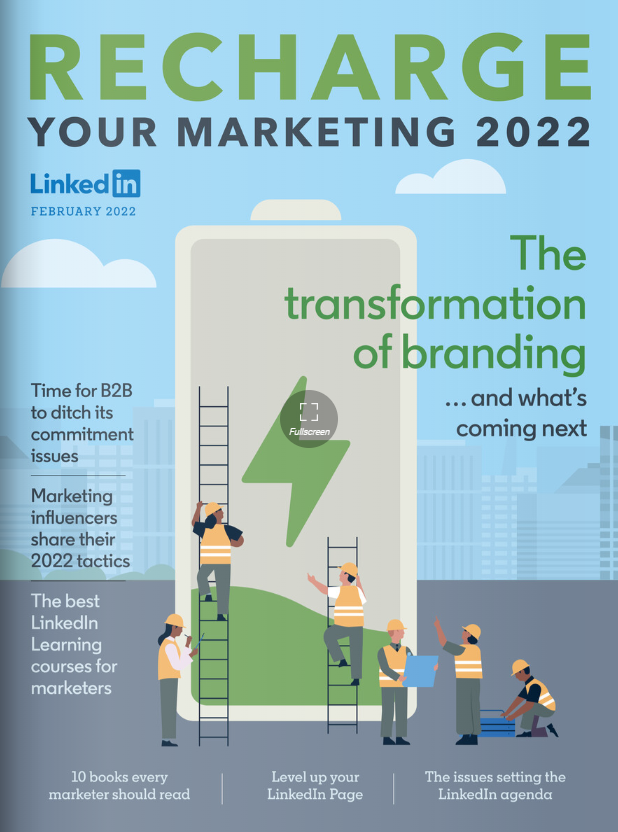 Recharge Your Marketing 2022 is a 48-page digital magazine about brand transformation. With a page-flipping format, it houses engagement tips, exclusive expert interviews, platform insights on post engagement & interest, and tooltips. The magazine highlights the key issues on B2B brands. It highlights 10 ways to improve and transform a brand's LinkedIn page. Another highlight is LinkedIn's 'Live with Marketers' video interview series.
LinkedIn publishes "Recharge Your Marketing 2022" on 28 February 2022.
Implications for Marketers:
LinkedIn's Recharge Your Marketing 2022 is worth looking at for marketers who want to maximize their ads and campaigns. The digital magazine can significantly boost branding and conversion in LinkedIn.
Reference: https://business.linkedin.com/marketing-solutions/cx/22/02/recharge-your-marketing-magazine-out-now?trk=lms-blog-wow&src=bl-po