Today, Instagram rolls out a new product showcase called Drops. It is a new feature to connect online shoppers to products and services within the platform. 
The Drop trend is an excellent marketing technique used by street brands for several years now. It's a method of releasing limited-edition products with time restrictions. On Instagram, Drops is a new product showcase featured on top of the Shop tab. This allows Instagrammers to browse, discover, and shop for the latest products on the market. It also allows them to view upcoming launches. By signing up for a reminder, they will be notified about any updates on the product launch.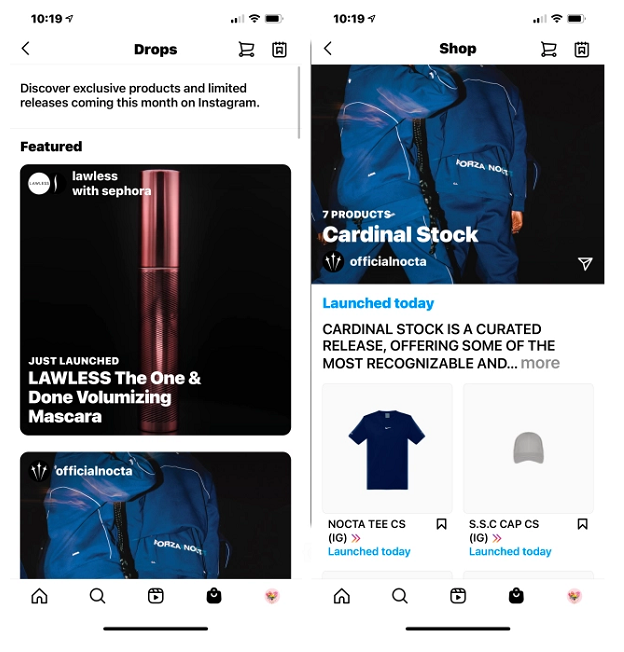 Online shoppers can directly purchase Instagram Drops. They can check out on Instagram without the need to visit a third-party website. For brands to be considered on Drops, they need to use the product launch feature of an Instagram Business account. What's great is that Instagram is waving all its selling fees for sales made via Drops.
Instagram rolls out a new product showcase called Drops on 26 May 2021.
Implications for Marketers: 
Instagram's new product showcase called Drops makes it easier for marketers to organize a product launch. They are easy to browse and shop, so, they can improve the buying experience that can result in increased sales. Drops create a sense of urgency among Instagrammers making it an eCommerce growth formula.
Reference: https://www.socialmediatoday.com/news/instagram-adds-new-drops-product-showcase-to-help-boost-ecommerce-activit/600881/