Audio-based marketing and audio searches are gaining traction in the digital world. Voice seems to connect more to the audience emotionally. While the audiences find it easier to navigate their smart devices using voice commands. During the COVID pandemic in 2020, an audio-based social platform hit the spotlight among users in the US. It is called the Clubhouse app. It is an invite-only app used as audio rooms by famous personalities. It has recorded 13 million downloads during its 1st anniversary last March.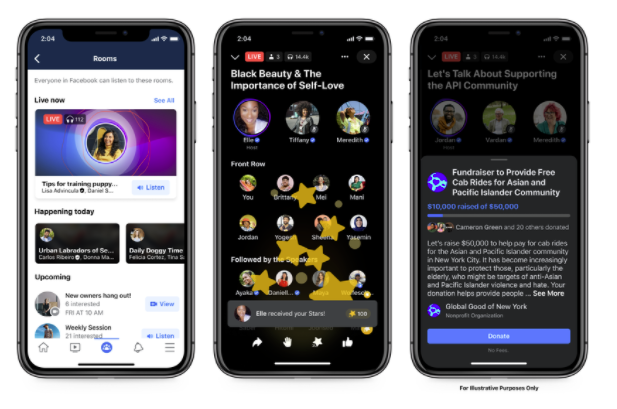 Many social media platforms tried to clone the Clubhouse app as it stirred conversations in the online world. Facebook, for one, has been experimenting with audio rooms called Hotline. Today, Facebook is beta testing live audio rooms in Taiwan. Facebook's live audio rooms look very similar to a Clubhouse room. It will initially be available to selected public figures in Taiwan who can start live audience rooms via their Facebook Groups. It also has the "Stars" function for paying or tipping creators. In-stream progress will display on a user's feed once he or she joins a live audio room.
Facebook is beta testing live audio rooms in Taiwan as of 12 May 2021.
Implications for Marketers: 
Facebook's live audio rooms are a new way to connect users through audio engagement. For marketers, this can be an option to promote products and services through audio-based marketing. The key is leveraging its power through Facebook Groups and influencers. Who knows? There is a great chance for Facebook to become an audio social leader globally.
Reference: https://www.socialmediatoday.com/news/facebook-launches-initial-test-of-its-clubhouse-like-audio-rooms-in-taiwan/600086/