Facebook believes that businesses are the heartbeat of every community. Around 160 million of them use Facebook apps every month. That's why they never failed to give them support. Last 18 May 2020, the platform published the "State of Small Business Report." Then, they offered free courses for online business on 21 May 2020. And this 4th week of June 2020, Facebook announces its free Summer of Support Program.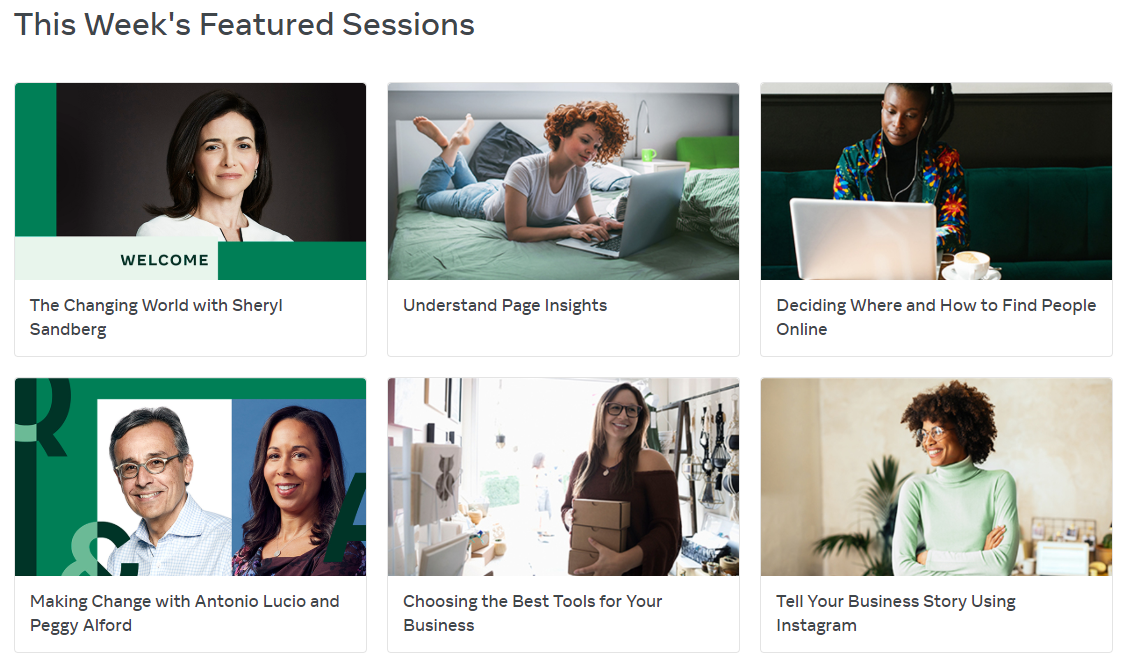 Summer of Support Program
The Summer of Support is the first-ever virtual training made by the platform. It's a series of digital marketing courses that will run for six weeks. Each week, the course will have a certain focus area. Participants will learn new information, key tips, and skills from different experts.
24 June to 28 June 2020 – The Changing World
A welcome message from Sheryl Sandberg, Facebook's COO. Sheryl noted in The Changing World that the coronavirus isn't just a health emergency. It's also an economic crisis. The platform wanted to help businesses become more resilient and optimistic than before. As such, Facebook focuses on 3 areas: 
Capital. Facebook initiated a $100 Million Grant Program for businesses around the world. They also had another $100 Million Grant for black-owned businesses in the US.
Product. Facebook launched features like Shops, Fundraisers, Gift Cards, and Business Nearby. They are looking forward to launching similar tools to further help brands.
Training. Facebook aims to provide a business resource hub and free e-Learning courses via Facebook Blueprint.
This chapter of training also includes expert's insights such as:
Brick and Mortar to Digital with Rich Rao, JillianBrugal, and Leanne Purkis;
State of Minority-Owned Businesses with Judy Toland and Monique Nelson;
Access to Capital with Magic Johnson;
The Story of Me & The Bees Lemonade.
29 June to 05 July 2020 – Resilience
This course element focuses on how brands can treat disruption as an opportunity. Expert's insights include:
Ask Mr. Wonderful with Kevin O'Leary;
Making Change with Antonio Lucio and Peggy Alford;
The Story of Bold & Sassy.
06 July to 12 July 2020 – Reinvention  
In this chapter, experts show transformative opportunities as businesses adapt with time.
The New Work-Life Balance with Katherine Shappley and  Julia Cheek;
Re-imagining Customer Service with Michelle Klein;
Creative Re-Inventions with Mark D'Arcy, Jose Andres, and Sade Lythcott;
The Story of Nandy's Candy.
13 July to 22 July 2020 – Re-Emergence  
The course element helps brands understand the new landscape after the pandemic. It teaches them which parts to keep and change.
Shifting Your Strategy Overnight with Erik Day and Michael Lambert;
The Story of Morella's Gourmet Paletas;
The Story of Space Cadet Collection.
23 July to 26 July 2020 – Customer and Commerce  
This chapter gives insights on how businesses can become customer-focused and an asset to everyone.
Moving Forward with The Profits with Marcus Lemonis;
Purchasing Power to the Masses with Gene Alston;
How to Communicate with Clients in a Period of Change with Jessica Jensen;
The Story of Swatara Coffee Co.;
The Story of Vertex Effects, Inc.
27 July to 31 July 2020 – Community
The last course element teaches brands how to engage and flourish in your community.
Leading on the Fly with Nada Stirratt and Clayton F. Ruebensaal;
The Story of Eyeseeme;
The Story of Ballet After Dark.
Other Training Classes
Summer of Support also includes training classes about:
Embracing a Digital approach.
Connecting with your customers.
Building an online brand.
Shaping stronger communities.
Facebook Partners
All these weekly sessions are free and will run online. More information will be shared on Facebook for Business Page.  Such virtual training initiative runs with the help of Facebook's business partners:
Implications for Marketers:
Facebook's goal is to train 1 Million businesses with digital skills within 2020. This Summer of Support Program is another initiative to achieving such a goal. For marketers, it's more likely worth engaging with the said program. Growth and learning must always be at the forefront. They help maximize one's digital efforts.  Take advantage of this free training. There are a lot of new and persistent challenges to navigate. Whether you're trying to stay afloat or taking it to the next level, keep going, and keep training.
Reference: https://www.boostwithfacebook.com/student/catalog