Do you want an intimate talk with Oprah Winfrey? How about  Ashton Kutcher, Kevin Hart, MC Hammer, and other celebrities? Well, an audio-based social media app has been a good venue for these talks. It was called Clubhouse, an invite-only app for audio chats launched in April 2020. The app is easy to navigate, simply request participation in the room and you can listen to the conversation once the host approved your request. Recently, Clubhouse moves closer to its Android version.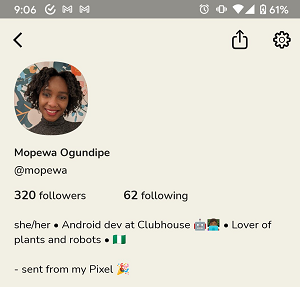 Besides being an invite-only app, Clubhouse is only available for iOS users. A member of the android development team for the app, Mopewa Ogundipe, posted a functional overview of Clubhouse for Android that is moving closer to launch. It shows how a Clubhouse profile user looks like. A profile image is visible on top of the screen together with the profile name, its number of followers, and followings. As noted, Clubhouse is speeding up its work to launch its android version.
Clubhouse moves closer to its android version as of 12 April 2021.
Implications for Marketers:
The Clubhouse app has recorded 13 million downloads as it reached its 1st anniversary. Since then, other social media networks are trying to clone the app. These include Facebook, LinkedIn, and Twitter. For marketers, Clubhouse is one new social platform to watch out for. Once the app rolls out its android version and opens its membership to the public, it can be a good platform for audio or voice marketing.
Reference: https://www.socialmediatoday.com/news/clubhouses-android-version-is-moving-closer-as-competitors-continue-to-ri/598244/