Due to the COVID-19 pandemic, people globally, especially businesses, have resorted to digital events. Today, around 87% of marketers consider them to generate revenue online. On 12 May 2020, LinkedIn launched its virtual events solution. Facebook allowed paid online events by 14 August 2020. Recently, Google launches Fundo – a virtual events platform.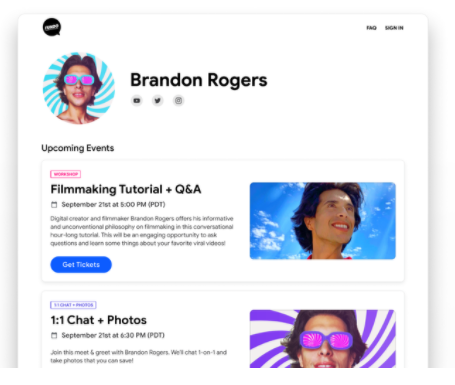 Fundo is a part of Google's Area 120. It's a platform for creators to connect with their target audience in a fun and profitable way. By creating a Fundo Page, creators can host online events like 1-on-1 chats, meet and greet, or workshops. Users who visit a Fundo page can see the online event announcements. All they need to do is sign up and buy tickets to take part in the event.  
With Fundo, creators have full control of the discount and ticket prices. If preferred, they can hold free events. Some creators offer a meet and greet to their YouTube premium channel members. A unique feature of Fundo is the 1-on-1 chat with photos. During a personal chat with a creator, one can pose a picture together like in a photo booth. The picture can be download in animation or photo strip for sharing.
Google launches Fundo in Canada and the United States on 09 September 2020. 
Implications for Marketers

:
A lot of physical events have been canceled since the outbreak of COVID-19. Since then, virtual events have been a solution replacing these cancellations. Fundo is a good option to consider. With Google on the side, creators can host online events that will rank on search pages. For marketers, this can be a less expensive way of launching products and services. A meet and greet with an influencer can highlight the brand. Or a product workshop can help customers fully understand its value.