Facebook Blueprint is an e-learning platform about Facebook and Instagram marketing. Last 24 June 2020, it launched the Summer of Support Program. It aims to help businesses become more optimistic and resilient in the light of the COVID-19 pandemic. This series of digital training is now on its 5th week. Being the second to the last chapter, Facebook provides free training about some eCommerce tools. The chapter aims to help businesses become customer-focused and an asset to everyone.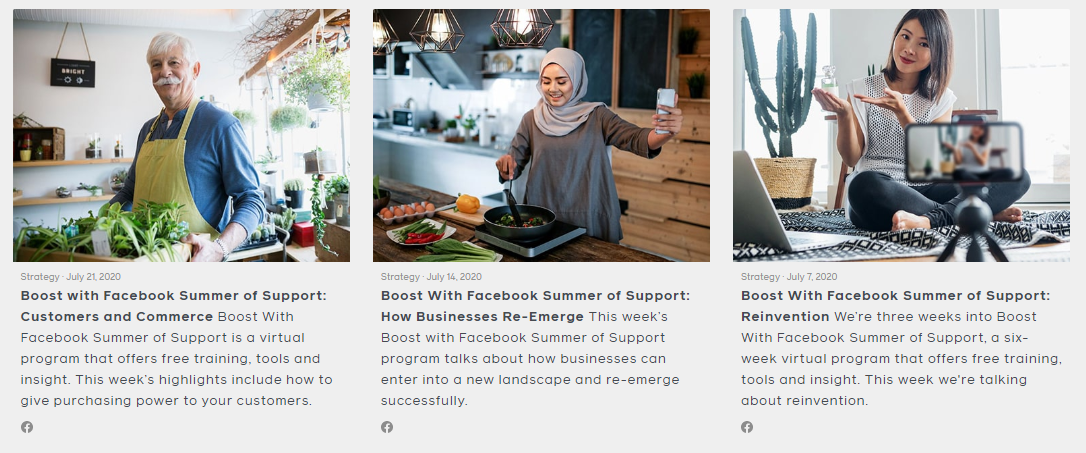 eCommerce Tools
The free training about some eCommerce tools cover:
Moving Forward – by Marcus Lemonis, host of the popular CNBC TV show, "The Profit." The short video aims to inspire business owners to pivot after the pandemic. The key message is utilizing digital advertising.
Purchasing Power to the Masses – by Gene Alston, the VP for Commerce Business and Operations of Facebook. This short video shows the rise of social eCommerce today. By utilizing eCommerce tools, businesses can dominate the virtual market. Facebook shops improve digital storefront. Gift cards encourage loyal clients to support a brand. Food delivery features promote businesses nearby. 
The Story of Vertex Effects, Inc – by Marcus Marangella, the owner of Vertex Effects. Here, he tells how they optimize content messaging to market his musical products on Facebook and Instagram. The key is to use data analytics.
Build Your Audience Using Facebook Pixels – Facebook Pixel is an analytic tool that helps brands build, measure, and optimize Facebook, Instagram, and Messenger advertising. The video shows how to set up and use it. It also shows some best practices for optimizing the tool. 
The Story of Basepaws – by Anna Skaya, founder/CEO of Basepaws. The video shows some techniques on how the company stands out in Instagram editing. It also shows pro tips on creative techniques.
Facebook's free training about some eCommerce tools will run from 20 July 2020 to 26 July 2020.
Implications for Marketers:
Facebook's free training about some eCommerce tools is a great help to marketers. Through the course, they learn the skills of digital advertising. Get to know more about how to improve the digital storefront using Facebook shops. Optimize content messaging using Facebook analytics. What's best is getting to know Facebook Pixels. As video marketing is gaining popularity, this tool can surely help marketers ramp up on the trend.
Reference: https://www.facebook.com/business/news/summer-of-support-business-commerce/#