Today, people rely on online websites for news. A large part of these articles come from social media networks. In Facebook alone, 95% of traffic in the US engaged in Facebook News. On 30 June 2020, Facebook updated its newsfeed algorithm. What has changed is the platform's focus on ranking original news stories. On 30 November 2020, it announced a journalism investment in the UK. Today, Facebook officially launches Facebook News in the UK.
Key Features of Facebook News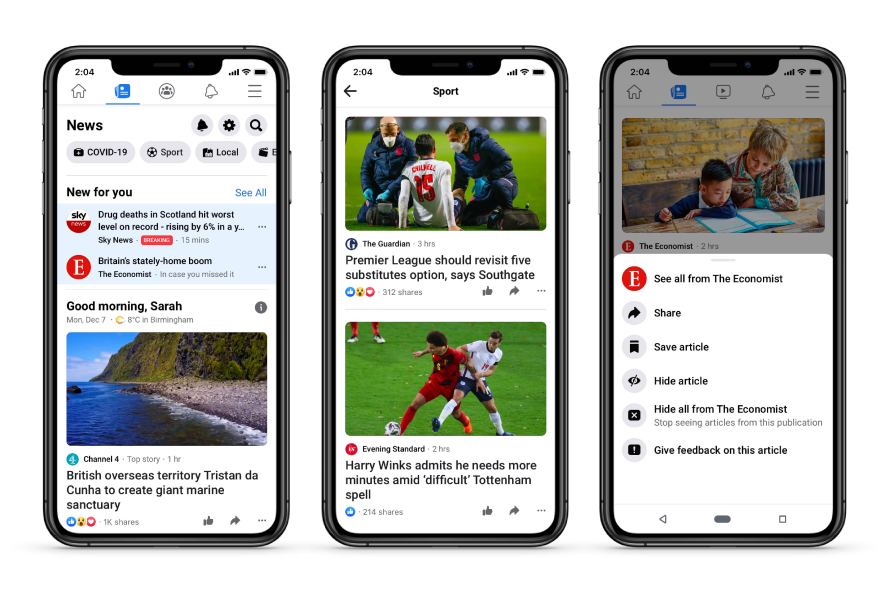 Facebook News features mixed content of curated and personalized information about relevant headlines and stories of the day. The section offers original reporting from 500 news websites and magazines of stories you care about. Users can be the first to see the top headlines and stories of the day. Among the key features of Facebook News are:
Control

. Users have the option to hide articles or publishers they don't want to see on their feeds. Or choose to see more of the ones they love. 

Personalization

. Find news based on what you follow, read, and share.

News Sections

that dive deeper about most searched topics like business, entertainment, health, science, sports, and technology.
Users can find Facebook News in the menu of a Facebook app or by tapping Facebook News on your search tab.
Facebook News Existing Partners
Facebook News articles are all original sourced from authoritative news publishers and lifestyle content magazines. These include:
Archant

Conde Nast

Cosmopolitan 

ESI Media

Glamour

GQ

Guardian Media Group

Harpers

Hearst

Iliffe

JPI Media

Midland News Association

Reach

Red

STV

Tatler 

The Economist

Vogue 

Wired
New Partners of Facebook News
As Facebook starts rolling out Facebook News in the UK, they also added the following news providers to the list of their partners:
Channel 4 News

Daily Mail Group

DC Thomson

Financial Times

Sky News

Telegraph Media Group
Facebook officially launches Facebook News in the UK on 25 January 2021.
Implications for Marketers:
Facebook News in the UK is the start of establishing deeper connections in the platform by weeding out misinformation. If such a concept clicks, then Facebook may roll out Facebook News globally. For marketers, this can be a new option to launch new products or share a technological breakthrough featuring their latest creation. Brands can also partner with news advertisers to increase brand awareness and conversion.
Reference: https://about.fb.com/news/2021/01/new-destination-for-news-in-the-uk/